What is a Last will and Testament?
A last will and testament is a document used to indicate a person's monetary, property, and familial intentions after death. It is used to provide instructions for the distribution of a person's assets to surviving beneficiaries. As long as it's prepared according to the laws of the country in which the creator lives, it is a legal and binding document. The person who creates the document is called a testator.
In addition to indicating the testator's wishes for the distribution of his or her assets after death, a will can be used to appoint a legal guardian for the testator's minor children. It is often wise to name an alternate guardian in case the chosen legal guardian can't or won't accept responsibility for the care of the children. Without this provision, a court is left to decide who becomes responsible to care for the testator's children if the other parent is unavailable or unfit.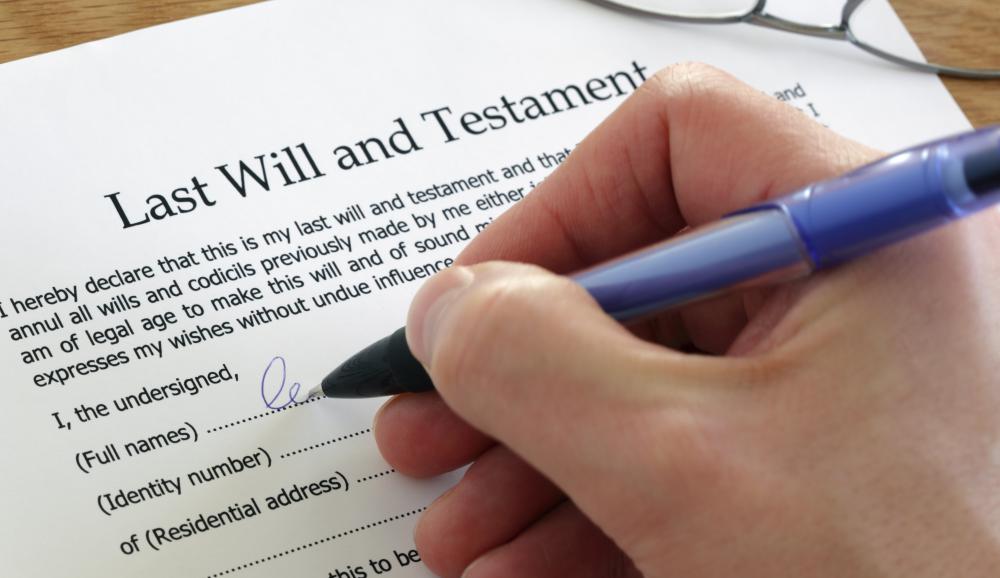 Any person over 18 years of age may create a last will and testament. A person may choose to obtain the services of an attorney in doing this, but this is not legally required. However, an attorney is not legally required and many people choose to create their own wills without legal help or advice.
For a will to be legal, it must meet certain requirements. The testator must identify himself and indicate the purpose of the document. Including the words "last will and testament" on the document, along with the testator's full name, usually fulfills this requirement.
The testator must also include a statement revoking any previously made wills. If the testator neglects to include this statement, these documents may be considered legal, unless they are completely inconsistent with the new document. The testator must also state that the new version revokes any previous codicils or additions made to previous wills.
The testator must also indicate that he or she has the mental capacity to create the will. This is usually accomplished by including a statement intended to demonstrate that the testator is of sound legal mind. Typically, this statement is placed near the beginning of the document.
Additionally, the testator must sign and date the document in the presence of two witnesses. The witnesses must not be beneficiaries. The testator's signature should be placed at the very end of the document. Any text that follows the testator's signature is not considered a part of a legal will. In some cases, the very presence of text after the signature may serve to invalidate the entire document.
There may be additional requirements for the creation of a will in some jurisdictions, so it's best to research local laws before making one. These requirements can often be found at local courthouses, online, or at a public library.