The HIV PCR test is one the most accurate diagnostic tools in use to detect the presence of the human immunodeficiency virus in the blood, more commonly known as HIV. Aside from being considered more reliable in terms of accuracy than most other tests, the HIV PCR test is also one of the few screening procedures that can be used for early detection. Most people can get an accurate test reading three to four weeks after a suspected infection.
Unlike other tests, such as the P24 antigen test, the HIV PCR test does not rely on the presence of antigens or antibodies in the blood for diagnosis. Instead, it endeavors to identify certain genetic material by highlighting sequences of the virus within the subject's deoxyribonucleic acid, or DNA. This is achieved via nucleic-acid amplification testing to observe the resulting polymerase chain reaction, hence the acronym "PCR." In addition, the HIV PCR process is further divided into two sub-categories that determine "viral load" in a serum sample: RNA PCR and DNA PCR. The former is used to screen blood donations and the latter is used to detect HIV in infants born to mothers known to have the virus.
To perform an HIV PCR test, the clinician or technician uses an enzyme known as DNA polymerase to pursue a pro-viral genome sequence and "amplify" it, or trigger viral replication in vitro by several million times within just a few hours. In addition to this enzyme, the PCR-inducing cocktail also contains oligonucleotides and deoxynucleotide precursors, as well as a cofactor called MgCl2. In the early days of this procedure, the genetic material was cycled at gradually elevating temperatures for a specific time. However, the PCR amplification process is now self-regulated through the addition of Taq polymerase, which is derived from a species of bacteria that naturally occurs in hot springs.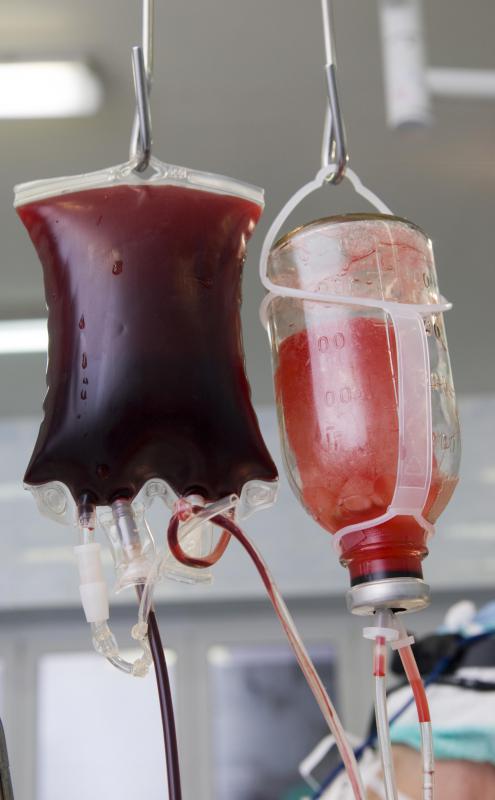 Generally speaking, HIV testing is best performed in a clinical setting since it is more conducive to safety and accuracy. However, there are home testing kits available that involve sending off blood samples to a lab under the confidentiality of an assigned code instead of the subject's name. There is only one such reliable test kit available in the United Kingdom, and only one in the U.S. approved by the Food and Drug Administration. Otherwise, it is not advisable to purchase other so-called home HIV testing kits on the Internet since these haven't been evaluated for accuracy.
Blood samples are taken from a patient at the start of the HIV PCR test process.

As part of an HIV PCR test, clinicians use DNA polymerase to amplify pro-viral genomes.

Exposure to bodily fluids during the mouth-to-mouth rescue breathing and CPR process can expose individuals to HIV.

Receiving a blood transfusion may increase an individual's risk of contracting HIV.

The structure of the human immunodeficiency virus allows it to attack and kill cells that are crucial to the immune system.