A groove joint is a type of joint most commonly seen in woodworking, although it can be used to join other materials as well. Groove joints are designed to be used in a tongue and groove system, with the grooves complementing the tongues to create a snug joint where two pieces snap together. Historically, tongue and groove joints were used for a wide variety of applications; today, the development of new building materials has made them a bit obsolete, but they still turn up in some applications, especially handcrafted materials.

As one might imagine, a groove joint consists of a deep groove cut into a piece of wood, typically along the side, although it can also be cut across for specialty applications. A complementary tongue is cut into another piece of wood. The tongue is a bit shorter than the groove, ensuring that it has some room to swell and subside once it has been inserted into the groove to create a tongue and groove joint.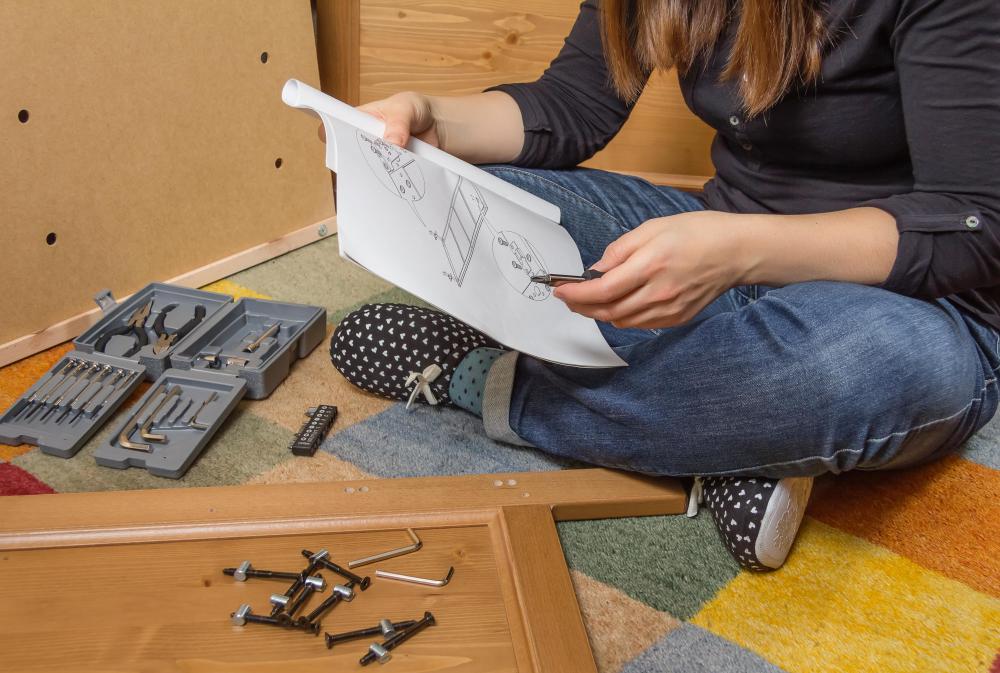 One classic use of this type of joint is in flooring. In this case, each piece of flooring will have a tongue on one side and a groove on the other. The flooring pieces can be snapped together to cover a whole floor. Glue is usually not used to avoid tearing at the tongue and groove joint when the wood expands and contracts, as it will do in response to water. Instead, the network of flooring boards fitted together will hold the floor stable and in place.
Tongue and groove can also be seen in some cladding materials and wall materials such as wainscoting. In addition, it is sometimes used in woodwork to create a hidden joint. Flat pack furniture sometimes comes with tongue and groove joints because they are easy to assemble and require no special tools or skills, ensuring that consumers can put the furniture together properly.
People can obtain wood which has already been cut with a tongue and groove joint from home supply and lumber stores. This wood tends to be more expensive than plain planks, but can be useful if people don't have the tools or the skills to cut even tongues and grooves. People can also use tools like saws, routers, and planes to create their own tongue and groove joints for specific projects. Tongues and grooves can also be used for things like creating a track for drawers to slide on, in addition to being seen in use as fixed joints.