What Is a Full Floating Axle?
A full floating axle is a type of axle that does not rely on the axle to hold the wheel and hub onto the axle housing assembly. Using a hub located on the axle through the use of wheel bearings, this type of axle has axles that are slid through the wheel hubs and into the axle housing. A rear axle that drives the vehicle and is a full floating axle uses drive plates that attach to the wheel hub and axle to drive the vehicle. Used in competition, this style of axle is used so that the wheel will not leave the vehicle in the event of a broken axle.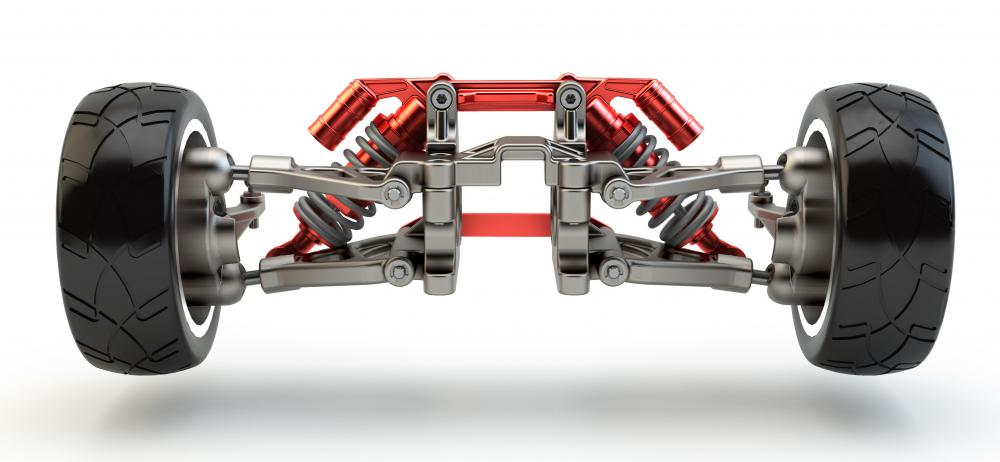 Many large trucks, trailers and competition-style vehicles utilize a full floating axle because of the inherent strength of the assembly. Commonly using a bearing and race — the component that the bearing rides in — that is connected to both the outer and inner axle position, the wheel and hub assembly is able to roll smoothly and with a very light rolling resistance when compared to a typical live axle rear end that uses C-clips or a bearing retainer to keep the axle and wheel in position. The full floating axle, in a heavy load situation, puts the stress and strain on the axle housing and not on the axle itself.
The drive axle in a full floating axle assembly is splined at both ends, with one spline locking into the gear set and the other going into the drive flange. This type of assembly allows for fast gear changes due to the wheels and tires not requiring removal in order to pull the axles. After removing the drive flange retaining bolts, the drive flange is easily removed from the wheel hub, and the axle is then pulled from the housing with an axle wrench. This wrench is threaded into the end of the exposed, axle and then the axle is simply pulled out and set aside.
With the drive axles removed from the full floating axle housing, the center section can be removed and the gears accessed. Replacement is often as easy as removal and can be accomplished in a short time with common hand tools. In most cases, a broken axle can be removed and the vehicle can be operated with only one axle in the housing instead of one in each side of the axle. This is not wise, however, in racing applications due to the reduced traction that a single drive tire would provide. On off-road vehicles, however, the full floating axle could allow the vehicle to be driven home on one axle.