A downspout is a pipe that directs rainwater from the roof of a house to the ground. Typically running down the corners of a building, downspouts attach to the ends of gutters that direct the water to the corners. Rain gutters and downspouts are made of aluminum, vinyl, galvanized steel, copper or wood. They can be painted to match the trim of the house.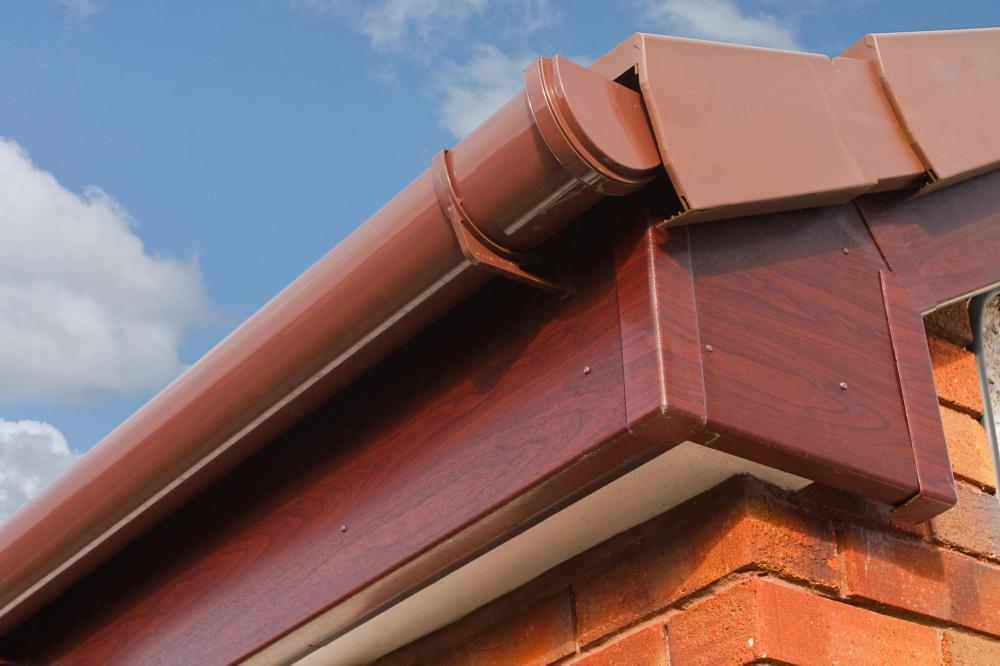 Without proper working downspouts, water will run over the edge of a house and can cause flooding and damage to the exterior walls of the house. Rainwater can seep into cracks in the walls, through windows and into the foundation. The most common problem with downspouts is that they become clogged with leaves and debris so that the rain cannot flow through properly.
The entire gutter system must be cleaned and checked regularly to avoid problems. Leaves should be removed from the gutters. A hose run through the gutters can reveal any clogs in the downspout. Downspouts are attached to a house by clamps and can easily be removed for further cleaning if the pipe becomes stopped up.
Downspouts and gutters can be replaced at any time. New drainage systems should be considered when new roofing is installed. The gutters and downspouts then can be fully integrated in the new roof.
Gutter guards can be added that cover the top of the gutters to help alleviate downspout clogging by preventing leaves and other debris from getting into the system. New gutters often are made from a machine that can cut the gutters to the exact length of roof. Seamless gutters often are made with built-in covers.
Downspouts are attached on the corners with L-shaped or U-shaped corner pipes. The end of the downspout should be curved and slanted away from the house, pointed to an area with good drainage so that water doesn't pool. A track can be set on the ground under the downspout to divert the water away from the house for even better water dispersion.
A downspout may be extended into the ground through a hole that leads to a dry well. Water overflow is then directed even further away from the foundation. Clogs in the underground system can be difficult to find, so regular maintenance of the gutters is very important.
Gutters and downspouts often make for a good do-it-yourself weekend project with the proper tools and a little direction. Repairs are easily made by reinforcing sagging gutters with hangars or patching holes in the gutters or downspouts with waterproof caulk. Water overflow often means that the gutters are too small to handle the amount of rainwater they receive.
Professional gutter installation and cleaning is available in most towns. Charges average between five and ten dollars per foot, depending on the type of gutter system. A professional installer should discuss the placement of the downspout and be aware of the homeowner's preference so that the water is diverted appropriately for the area.