What Is a Document of Title?
A document of title is any written legal document that verifies ownership of an item. It may also be a written commercial document that allows for the transfer of ownership of products, goods or another tangible item from one party to another party in a transaction. Some examples of legal documents that are included in this category include bill of sale, certificate of title, title deed, bill of lading, dock receipt or warehouse receipt. The party that possesses the document of title is the person who legally owns the goods or products and can be shown as proof of ownership if there is a question.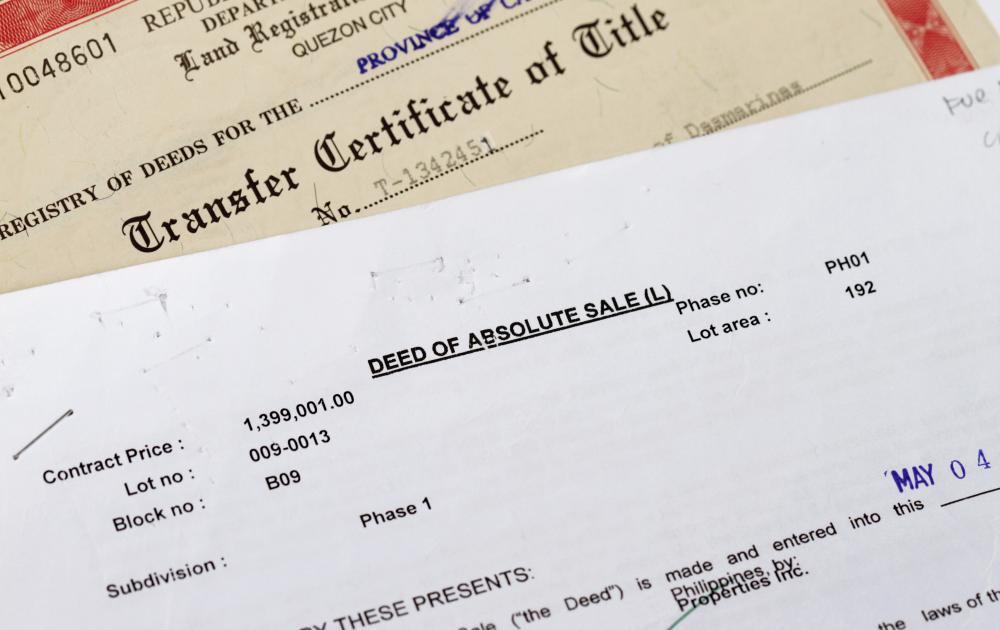 The most common use of this document is when one party possesses the goods, either because he bought the goods and is waiting on the delivery of goods, or a third party has been given the goods for holding or safe keeping until the goods are sold. The document of title lists the terms and conditions of the transaction, but it also describes the quantity and exact goods or products that are related to the document. The person that holds the document of title owns the goods or products regardless who is in possession of the goods or products.
A title document is a very important legal document in commercial business transactions. It acts as the document that symbolizes the proof of ownership while the goods or products are in transition from the seller to the buyer.
In some types of transactions, it does not require a physical transfer of products or goods to involve a document of title. For example, when a person who is selling a home signs over the title or deed of the home to the buyer, the document represents the legal transfer of ownership of the home from one party to the other. The home itself does not need to be moved from one place to another to meet the criteria for this type of document.
In this case, possession in nine-tenths of the law does not apply. The Uniform Commercial Code, federal agencies and state agencies all oversee the proper legal use of this type of document. If there are disputes, these laws, regulations and agencies determine the legal rights of the party that has the document of title versus the party that has the products or goods, and any legal ramifications that one or more of the parties will suffer for not abiding by these laws.