A crib sheet is usually a fitted sheet that is used on crib mattresses. These sheets come in a variety of fabrics, patterns and there can also be some differences in crib sheet sizes. You may have to look for special crib sheets if you have a round crib, a portacrib or travel crib. It's also a good idea to put something below a crib sheet, like a mattress cover or a puddle pad, because babies are prone to nighttime accidents and wetting, which can endanger crib mattresses.
Basic crib sheet types for standard sized rectangular cribs are easy to find and can be relatively inexpensive. You will pay more if you buy certain designer sheets, and if thread count on the sheets is higher. Most parents look for sheets that are 100% cotton, and these can be conveniently priced. One recent new type of fabric offered is cotton knit, which can be soft and easy to place on a mattress.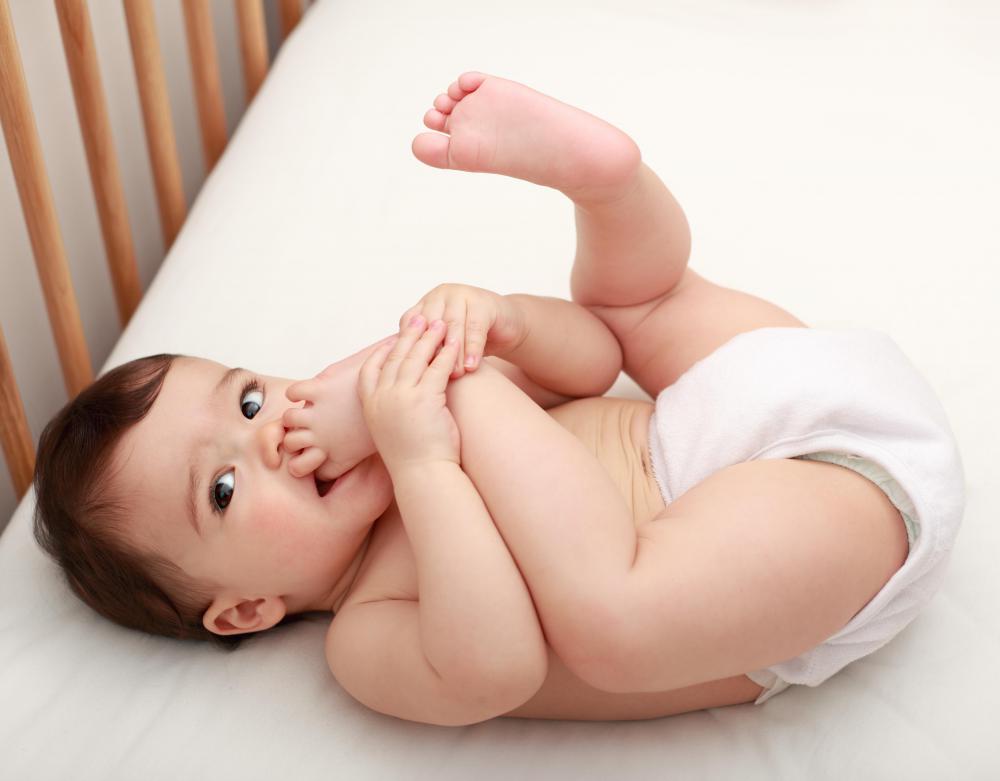 Other fabrics used are typically flat cotton materials without stretch or cotton flannel. Cotton tends to be preferable because it's durable and breathable. Sometimes stretch cotton and cotton flannel annoy parents because the material can pill and baby can get fuzz in his or her mouth. Washing the material several times may help get rid of any fuzz, though pilling usually increased with frequent washings.
Unlike sheets for larger beds, the crib sheet is a fitted sheet only. You usually don't use a top sheet on a baby, though some parents may prefer it. Actually, it's recommended that you not overwhelm babies with tons of blankets, especially comforters that are filled. Too much bedding in babies' beds is associated with a higher incident of sudden infant death syndrome (SIDS), because it is thought that some babies may have their faces or nose blocked by heavy comforters.
In terms of style and patterns, variability in design is likely to satisfy a vast number of nursery design schemes. You'll find many pastel crib sheet colors, and many that will coordinate with other nursery fabrics or designs that you like. You can find crib sheet styles with licensed cartoon characters, though it should be noted that infants are unlikely to fully appreciate these; older children may definitely enjoy bedding down for the night with a favorite cartoon or TV character. You can also use fabric you choose and make your own crib sheets if you would prefer.