What is a Countersink Drill?
A countersink drill is designed to create a cone-shaped hole in metal, wood, or plastic. The primary purpose of a countersink drill is to create a hole in the material deep enough to allow the head of the screw to be flush with the material surface. This type of drill can be found in manufacturing and construction. Using a countersink drill allows the application of drywall compound, paint, or wallpaper to completely conceal the location of the screw.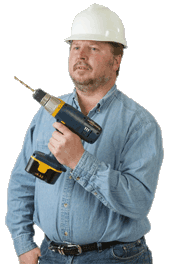 Although many people assume that a countersink drill is a specialty product, there are actually two options available: dedicated or modified. A dedicated drill is designed to always create a countersink hold. The drill bit is interchangeable, allowing the user to select the appropriate dimensions, based on the project requirements. The purchase price of these types of drills is slightly higher than for a standard drill, but may be useful if this type of drilling is a constant requirement.
A modified countersink drill uses a standard drill, but requires the purchase and implementation of customized countersink drill bits. These bits cost more than standard drill bits, due to the need for additional depth. Make sure that any drill bit is compatible with your drill manufacturer and model before making your purchasing decision.
When purchasing the drill bits for a countersink drill, there are three dimensions to consider: material, length, and countersink depth. The type of material you plan to drill into is essential when selecting a drill bit. Most stores clearly label the different drill bits, organizing them by material. Take the time to review all the options, and select the material description that most closely matches your actual material.
The length of the drill bit is determined by the intended use. The drill bit needs to be long enough to create a hole the appropriate depth. Think about the projects you will be using this drill bit on and make sure it is long enough to meet your immediate and future needs.
The countersink depth is also dependent on the material used and the final product. For example, a countersink drill used in construction must be deep enough so the head of the screw is completely obscured through the application of paint, drywall compound, or wallpaper. However, in manufacturing it may be sufficient for the head to be flush with the surface. Measure the depth of the material to find the right drill bit for the task.