The term car seat base refers to the detachable bottom part of a rear facing infant safety seat system. This type of system usually consists of a base and a seat that doubles as a carrier. The base is installed in the rear seat of the vehicle using the existing seat belts or the LATCH (lower anchors and tethers for children) system to secure it firmly, and the carrier is attached to it and held in place with a built-in locking mechanism. The car seat base remains installed in the car while the carrier that the baby is strapped into is removable for convenience. It's also possible to purchase more than one base so that the infant seat can be used in multiple vehicles.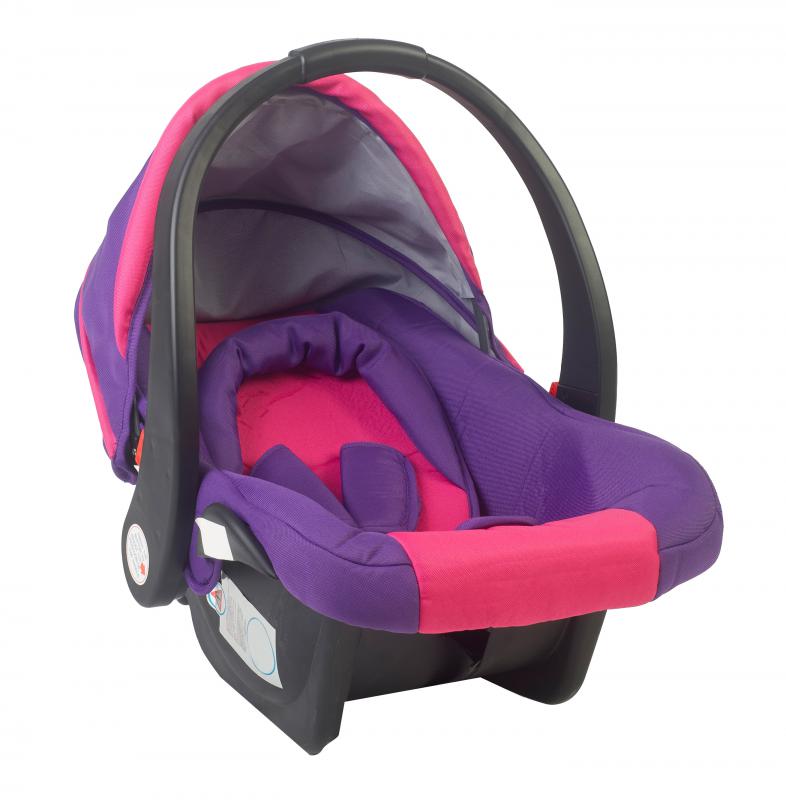 A system that utilizes a car seat base is often the first one most parents use for their babies. The seats that attach to these bases are sized more appropriately for newborns and infants. They also recline at the recommended angle for optimum support because babies of this age have limited muscle control and strength. The car seat base allows the seat to be detached and used as a carrier. This is often extremely convenient and has the added bonus of not having to awaken a sleeping infant when leaving the car.
Although the carrier is removable, a car seat base is installed securely in the rear seat of the vehicle prior to use. The installation can be accomplished with the vehicle's lap and shoulder belts, and may require the use of a special locking clip depending on the style of seat belt. If the vehicle is equipped with it, the LATCH system can also be utilized for installation, and is usually easier to use than the vehicle's seat belts. It's vital to make sure the car seat base is installed firmly and that it can't move more than 1 inch (2.5 cm) side to side or front to back.
Once the car seat base is installed in the vehicle, the carrier is attached to it so that the infant may travel safely in a rear facing position. The baby is securely restrained with a five point harness, and the carrier seat is attached to the base. A built-in locking mechanism holds the carrier firmly in place on the base; it still can still be easily removed, however, by operating a lever or button to disengage the lock. Many parents purchase more than one car seat base so that they can use the seat in multiple vehicles. This adds to the convenience and saves money when compared to purchasing several seats.