The back drape, also known as the drape-back or cowl back, has a "V" plunge with a draping effect that is similar, as the name implies, to hanging window drapes. As with window drapes, the material can be left in a free flowing manner or in a more uniform pleating. The effect is created by using a surplus of material to create a loose, flowing, blousy look. There is no common sleeve length or styling that accompanies this type the back drape.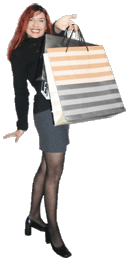 This drape look is designed to show off or expose the back of the wearer. Traditionally, clothes are created to focus the drama of the design on the front of the garment; with this style, however, the dramatic effect is visible only from the rear. The front of the garment is most often a simple and unadorned style.
To add a fuller look, ruching, pleating and crimping can be part of the piece. While these are added to the side of the garment, the front is often devoid of fullness and tends to be more form fitting. Often, a tie is added at the back of the neckline to prevent the garment from slipping off the wearer's shoulders. When tied, the strands are then left to hang down the back. Often the ties will have beading or baubles attached for added effect.
The back drape was not a feature common in the minimalist designs of the 1990s but was instead more common in the bigger, grander styles of the late 1970s and the 1980s. The style resurfaced in the trends of the late 2000s. Originally, the design was more for effect, while the resurgence of this feature is all about comfort.
Traditionally, gowns, more than casual wear, will feature a back drape. For example, this is often a feature of a wedding gown. Back drape gowns also can be worn with a back drop lariat, which further accentuates the appearance and focus on the bare skin.
Often made of cotton, a cotton blend or jersey material, the drape back tunic or tank are comfort wardrobe items as well. While they sport a distinct style, their hallmark style seems to swaddle the wearer. These items are often paired with skinny or boyfriend jeans.
While dresses commonly feature a back drape, cardigans, jackets and shirts also employ this design technique. These flowing garments are not form fitting. For this reason, pieces with this feature are often worn to camouflage what are thought by some to be figure flaws.