What does a Supermarket Cashier do?
A supermarket cashier typically spends most of his or her time, working a cash register. He or she rings up customer purchases, and takes money (or other forms of payment), while providing adequate change as needed. There can be other responsibilities involved in this job, which are worth noting.
Sometimes the supermarket cashier is responsible for maintaining the cash drawer in a certain condition. When change supplies get too low, the cashier may need to remove the drawer, using a variety of procedures and bring it to management to replace it with a new drawer. Cashing out or changing drawers may be done on a time-based schedule too, or whenever the register has to be left or closed for long periods of time.
One thing the supermarket cashier will need to know is how to take different forms of payment and store policy on accepting payment. When a check is written, for instance, the cashier must check identification, unless the customer is very well known, and possibly may have to limit check spending to certain amounts. Similarly, workers must understand procedure on receiving food stamps, WIC (women, infants and children) payments, and how to process ATM and credit transactions. Procedures could be different from store to store, but most people used to cashiering can easily make the jump from one store to the next, even if there are slight differences in currency handling or register function.
Of course, a vital part of the supermarket cashier job is determining how much to charge for things. They may need to "ring up" each item by inputting the price into a register, or many stores now use scanning devices, which can help reduce human error. The worker might still need to identify things that are sold by weight (like most produce) and input the appropriate code so the customer is accurately charged.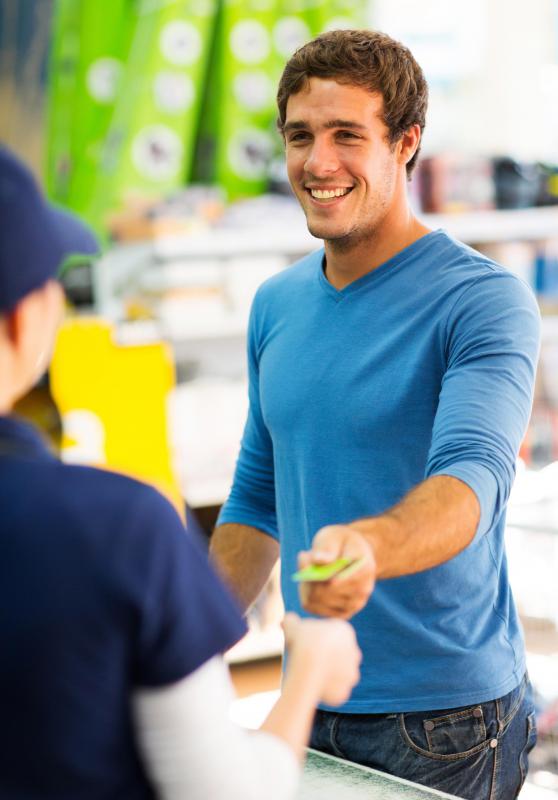 Depending on the store, a supermarket cashier could also bag groceries, and most do this to some degree, some of the time to expedite sales, even if baggers are employed. Some cashiers also stock groceries, or return items to stock; this is more common in smaller stores. Since cashiers are at the front of the store, they might also receive quite a few questions or complaints from customers, which they may need to refer to other experts like managers. Some register workers also process any returns customers have if food or other items purchased at a store were unsatisfactory in some manner.
Those suited for supermarket cashier work typically have a friendly manner and like working with people. They also are good at counting money and can perform their job with few errors. Many supermarkets are now open for long hours or at all times, and the cashier might expect to work different shifts and for at least some time on major holidays. Typically newer employees are given less agreeable shifts, while employees with seniority may have more choice in when they work.