What Can I Make with Old-Fashioned Oats?
With old-fashioned oats, you can make much more than just hot or cold breakfast cereal. The healthy steel cut, or old-fashioned, variety of oats can be used in many different kinds of baked goods as well as in meatloaf and stuffing recipes. Since the oats have only a subtle grainy, nutty flavor, they work well with just about any seasoning from sweet to savory.
When used in meatloaf, oats "bulk" up the mixture much like adding bread crumbs. The old-fashioned oats take on the flavor of whatever seasonings and spices are used in the meatloaf. You may want to use half oats and half bread crumbs when making meatloaf. In stuffing with oats added, savory as well as sweet flavors may be used, such as when combining minced onions with fruit like apricots. Some cooks like to first lightly brown the oats in butter or oil in a pan before stirring them into a poultry stuffing recipe along with bread cubes.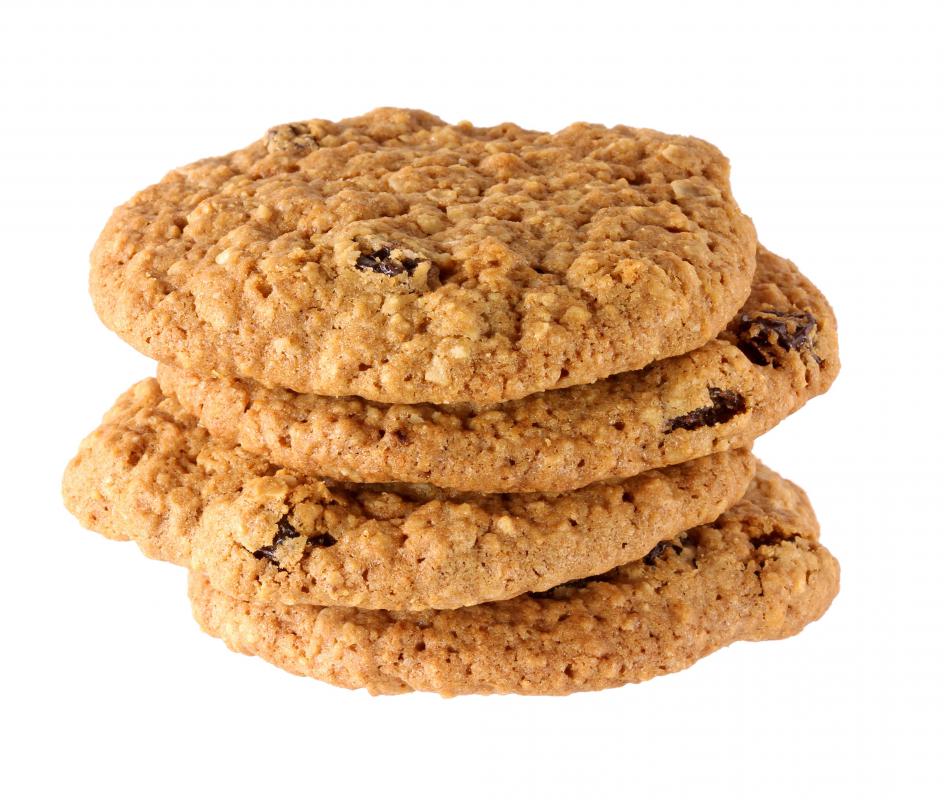 Any time you'd like to make a sweet, crumbly dessert crust, batter or topping with a satisfying texture, oats can be a great core ingredient. Popular desserts that you can make with old-fashioned oats include apple crisp, date squares and oatmeal cookies. Apple crisp and date squares have an oat bottom crust and topping. The apple filling is usually quite chunky, while the date one is a thick paste. Oatmeal cookies are the simplest of the three desserts, as there is neither a filling nor a crust, but just a regular cookie dough with raisins, nuts or both added in with the oats.
You can also make quick breads, coffee cakes, scones and muffins with oats either in the batter, as a topping or both. A crunchy oat topping made with melted butter, brown sugar and perhaps some cinnamon adds extra crunch and flavor to the tops of many different types of baked goods. Using old-fashioned oats in the batter can help give baked goods a pleasant, coarse texture. The oats can also be used alone and boiled for a few minutes in water to create the thick, hot cereal called porridge. You may want to sweeten porridge with brown sugar, cinnamon and sliced apples before serving it with cold milk.
Granola is a popular cold breakfast cereal that you can make with oats as well as your choice of nuts, seeds and/or dried fruits. It's best to make it in a batch that you'll use fairly quickly as it won't have preservatives. Simply mix together old-fashioned oats with nuts, seeds or dried fruits plus salt, brown sugar or honey, cinnamon and vanilla before spreading the mixture in a cookie sheet to bake it. The result is a crunchy cereal ready to eat cold with milk. Granola can also be sprinkled onto yogurt for snacks or you can use it to make cereal bars.