What are the Stages of Wound Healing?
There are four stages of wound healing. In order, the stages are inflammation, epitheliazation, angiogenesis, and remodeling. It can take as little as three weeks or as long as two years for a wound to finish the healing process, depending on its severity. Some wounds disappear almost completely once they are healed, while others might leave a very noticeable scar that may never go away. No matter how severe the wound was, the tissue covering it is usually not as strong as it originally was when it grows back.
The inflammatory stage, which is the first of the four stages of wound healing, might last from two to five days. During this time, the wound begins to heal itself from the inside and the body starts to repair any affected tissues. A person might notice that the wound is bleeding, and blood clots will typically begin to form at its surface. Blood vessels attempt to narrow themselves to reduce the amount of blood that comes out. A scab will usually begin to form over the open area, and this is when the epitheliazation stage generally begins.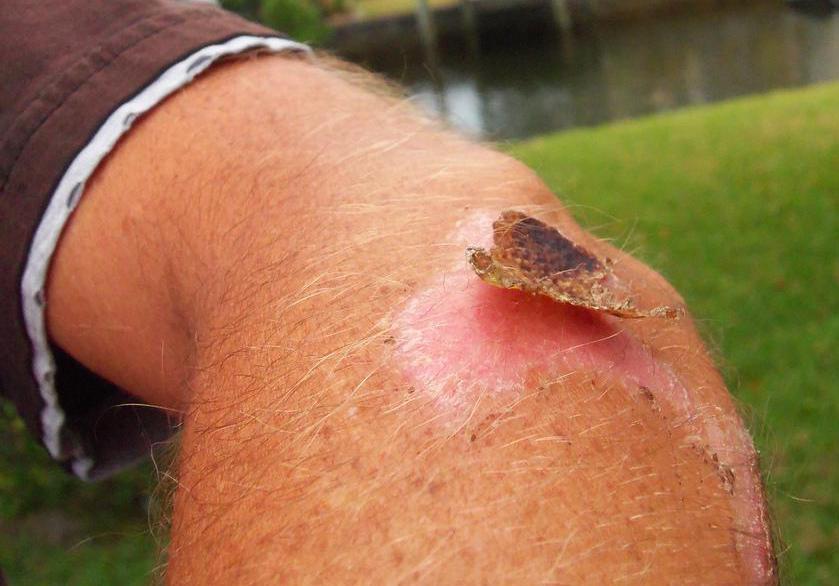 During the epitheliation stage, the second of the stages of wound healing, the scab has formed over the outside of the wound and new skin has started to grow underneath. This stage might last as long as a few days or a few weeks. The outer edges of the wound in the skin start to constrict, growing closer together and finally binding as the new skin develops and holds the edges together. As epitheliation comes to an end, angiogenesis begins and new blood vessels begin forming underneath the new skin to replace the ones that were injured.
The last of the stages of wound healing is known as remodeling. When this occurs, the scab covering the wound has likely either come off completely or has started to flake off. Collagen begins to form rapidly, and a scar will start to become noticeable. The scar tissue present may help to protect the site of the wound more effectively than the scab did, but the tissue is still not normally quite as strong as the tissue it replaced. Once the scar has formed, the wound has typically finished healing, and the scar may never completely go away. Even though the stages of wound healing are normally the same for almost everyone, the rate at which wounds heal still tends to vary depending on the severity of the wound and the particular person because not everyone heals at the same rate.