What Are the Pros and Cons of Lymphatic Drainage?
Lymphatic drainage is a type of alternative treatment. It uses manual massage to promote flowing of lymph fluid through the lymphatic system. This holistic therapy can be potentially beneficial by relaxing the body, reducing possible blockages, and aiding in other systems in the body such as the immune system and digestive system. Although lymphatic massage can be beneficial for some people, it can also cause fatigue, overwhelming thirst, and nausea or vomiting. Diabetics and people with heart disease, clotting, or kidney disease should avoid lymphatic massage because it can be dangerous.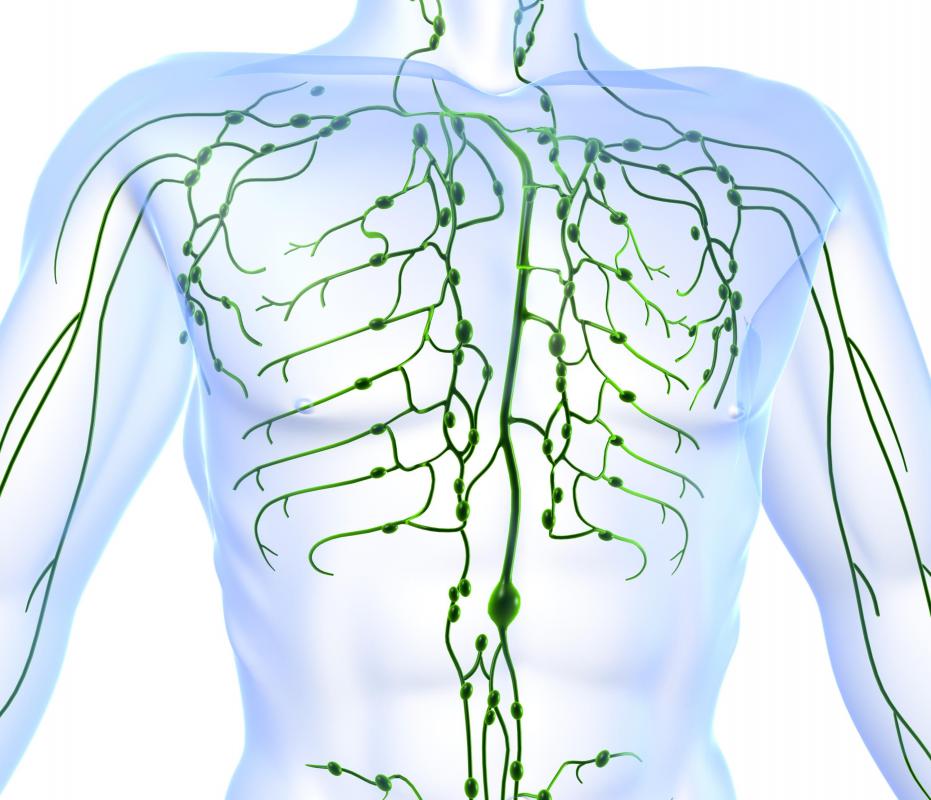 The lymphatic system plays an important role in keeping the body healthy. It has the responsibility of filtering out toxins from the body. By removing these toxins, other systems in the body can function normally. Lymph nodes, part of the lymphatic system, also produce white blood cells called lymphocytes that are used by the immune system. Sometimes the lymphatic system functions are diminished, which can be corrected by lymphatic drainage.
A special message therapist is trained to learn the layout of the lymphatic system. Lymphatic drainage is a form of massage therapy. The therapist applies gentle, rhythmic pressure on and around the locations of the lymph nodes. There are lymph nodes located in multiple areas of the body. As the therapist focuses on these areas, relaxation is achieved from the surrounding muscles and tissues.
Benefits of this technique are numerous, but do not always apply to everyone. Manual massage for the lymphatic system can reduce blockages that reduce the flow of lymph fluid. This flow reduction can cause swelling to occur in the legs or arms and in the lymph nodes. By gently massaging the areas of the lymphatic system, blockages can be broken up. Lymph flow is improved, which reduces the retention and buildup of toxins in the body.
In addition to improving lymph flow, lymphatic drainage may also help people who have allergies and become sick easily. The immune system is responsible for protecting the body from illness that occurs with exposure to foreign antigens. When the lymphatic system functions properly, the immune system can work properly. Stimulating the lymphatic system through massage can also stimulate the immune system.
While lymphatic drainage can have benefits, it can also have drawbacks. Lymphatic massage does not always work for everyone, nor is it ideal for everyone. It can affect sugar levels for diabetes and increase heart rates. Extreme fluctuations of sugar can be dangerous. For people with heart disease, increases in heart rate can be fatal.
People who have diminished kidney function as a result of kidney disease are not suitable candidates for lymphatic drainage because the kidneys filter toxins and the massage promotes the flow of toxins through the lymphatic system. Stimulating the lymphatic system can cause fatigue and thirst. People who become extremely tired should not operate machinery or drive. To avoid dehydration and help rid the body of toxins, it is important to drink plenty of water.