What are the Main Political Parties in the United States?
The United States has a multiple political party system, but the Democratic Party and the Republican Party are by far the two main American political parties. The Green Party and the Libertarian Party are two other American parties with a large base of members.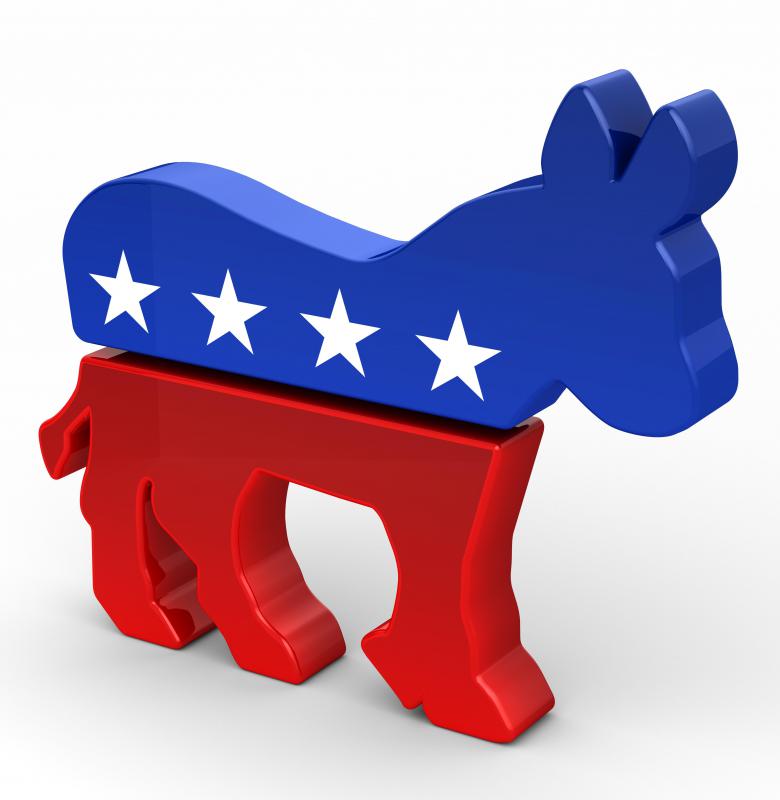 The first Green Party meetings held in the United States occurred in 1984, with the first candidate not showing up on the ballot until 1986. Ralph Nader's choice of the Green Party as his preferred political party did much to increase the growth of American "Greens." When Nader declared in November 1995 that he would run in the California Green Party primary election, states where this party previously did not have presence began forming active groups. Nader was placed on 22 state ballots and as a write-in choice in 23 more states.
David Nolan founded the Libertarian Party in Colorado on 11 December 1971. A philosophy professor at the University of Southern California (USC) named Roger MacBride ran as the party's candidate in the 1976 presidential race. Tonie Nathan was his vice presidential running mate, and she was the first American woman to receive an electoral vote. The Libertarian Party earned ballot status in 1976 in 32 states and was on ballots in all states in 1980.
The Democratic Party in the United States was founded by Thomas Jefferson in 1792. It was known as the common man's party, and was at that time called the Democratic-Republican Party. Jefferson believed that political leaders should not be chosen on the basis of status and wealth. He became the first Democratic president, and his original vision of helping the poor and striving for equality remain a part of the Democratic platform today. Famous Democratic Presidents include Andrew Jackson, Franklin Delano Roosevelt (FDR), John F. Kennedy (JFK), Jimmy Carter, and Bill Clinton.
The Republican Party, also known as the Grand Old Party (GOP), was founded in 1854 by people opposed to the continuation of slavery. When Republican Abraham Lincoln was elected as the president of the United States in 1860, 60 years of Democratic leadership was ended. The party's core beliefs include individual responsibility and entrepreneurialism. The GOP also emphasizes private aid organizations over institutionalized welfare. Republicans believe it is up to the individual to govern him or her self with minimal intervention from the government. Famous Republicans Presidents include Theodore Roosevelt, Dwight David Eisenhower, Richard Nixon, Ronald Regan, and George Bush.