What are the Different Types of Wooden Outdoor Chair?
Types of wooden outdoor chairs range from those with high backs to versions with low backrests. Some wood outside chair designs are bulky while others are streamlined. There are both dining and lounge styles of wooden outdoor chair. Some of the most popular wooden chairs made for outdoor use include deck, folding, and bench varieties.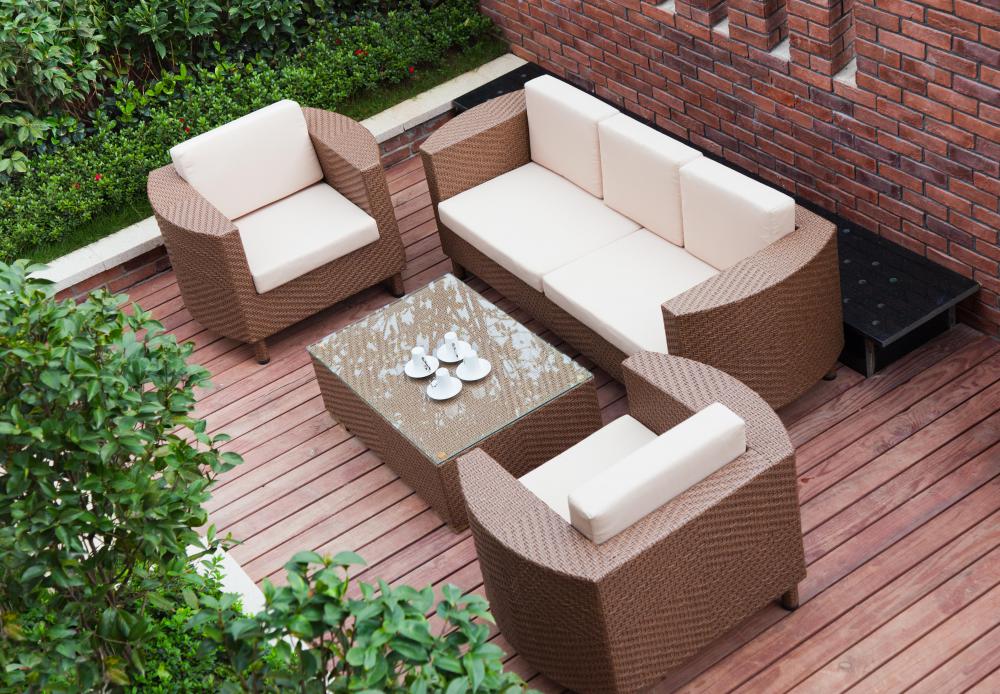 Deck chairs are often sturdy furniture pieces made from slats of wood. The Adirondack is a classic wooden outdoor chair that features a high, vertical-slatted, almost fan-like, back and a seat that slopes downward toward the backrest. They may be stained in light or dark shades or be painted in a pastel or bright accent color. A matching footrest piece turns a regular Adirondack wooden chair into a lounger. Other, more modern, types of wooden deck chairs and loungers include wood slats inside a rectangular aluminum frame.
Some large, wooden slat lounge chairs fit two or more people. They may have a large wheel assembly on either side of the upper section to allow the heavy furniture piece to be more easily moved around a swimming pool deck or patio. Many large, wooden outdoor chair loungers also have an adjustable backrest.
Folding wooden chairs are much lighter in weight and sleeker in design than deck seating pieces. A folding wooden outdoor chair is designed to be easy to transport to the beach or set up quickly around an outside dining table. Folding dining chairs are often all wood, while the types made mostly for beach use usually have a wooden frame with cloth stretched across it on the seat and backrest. The cloth may be canvas or a softer type of thick fabric in bold stripes or solid colors.
Some folding beach chairs are designed to sit low on the ground, while others are regular height. A folding wooden outdoor chair that's low to the ground allows a person to stretch out his or legs at ground level on the sand or a towel. Wooden-framed beach chairs may be armless in design or have armrests.
While most wooden outdoor chairs are designed to handle moisture, teak furniture is especially good at handling rough weather conditions. Although it will change color from being in direct sunlight, some people like the transformation a caramel-toned teak wooden outdoor chair will go through as it changes to a silvery gray. If this look isn't desirable, a weathered teak chair can be restored. In addition to deck chairs, teak benches are other popular outdoor chair types commonly available.