What Are the Different Types of Modern Cabinets?
Cabinets have made their way into homes and businesses as indispensable places to store everyday objects. In kitchens, bathrooms, offices and just about anywhere things need storing, cabinets provide storage space and help organize items. The different types of modern cabinets can be categorized based on what they are used to store, which could be anything from dishes in kitchens to linen in bathrooms to cleaning supplies in laundry rooms and pantries.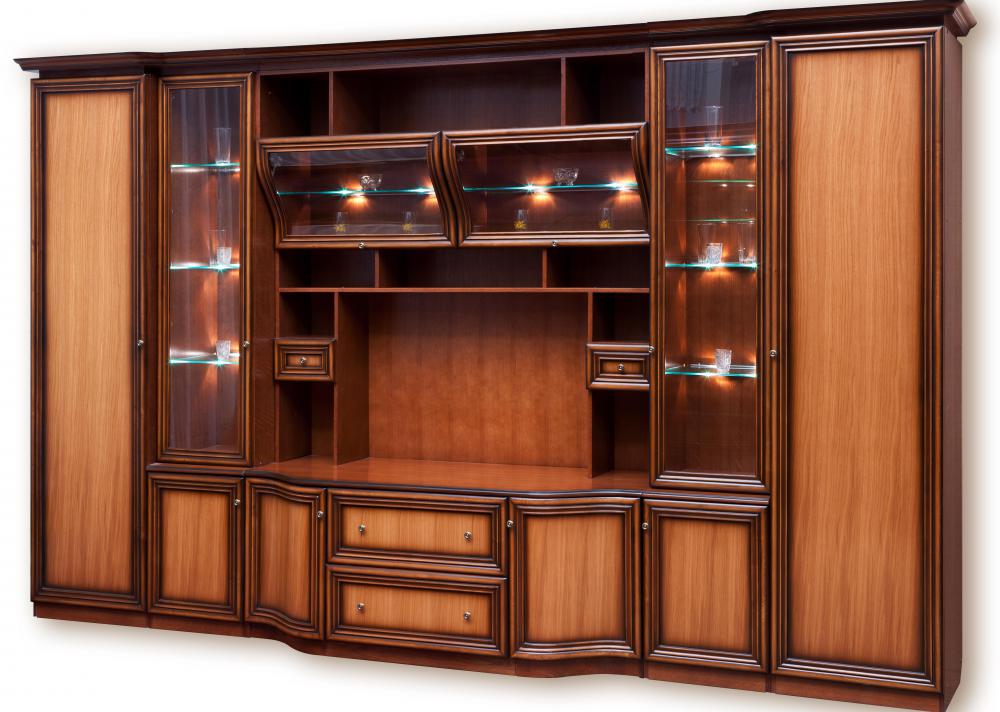 Modern cabinets in kitchens, bathrooms and bedrooms follow two general cabinetry designs. Face frame cabinets have a frame around the cabinet opening to which the cabinet doors attach. Frame-less cabinets lack the frame, and the doors usually attach inside the cabinet to the cabinet side.
Three basic types of doors are found on modern cabinets: overlay, partial overlay and inset. The overlay type covers the front of the cabinet frame or front edges of the sides, top and bottom. A partial overlay has a groove cut into the inside face of the door so it fits into the cabinet front but still rests against the frame or cabinet edges. An inset door fits entirely into the front of the cabinet and does not touch the cabinet frame or sides at all.
Kitchen cabinets fall into three main categories. Base cabinets sit on the floor and nearly always support a countertop surface. Wall cabinets mount on the wall above the base cabinets. Appliance cabinets hold built-in ovens, refrigerators and other appliances. Some modern cabinets for special purposes include pantries, warming drawers, refrigerator drawers and wine racks.
Other cabinets include bathroom vanities, medicine cabinets and linen cabinets. Many homes include cabinets in laundry rooms similar to kitchen cabinets, and some incorporate cabinets into bedroom designs. Modern cabinets take many forms and various styles to complement décor or set the style for a room or an entire home.
Contemporary cabinetry usually has a flat appearance with prominent or semi-prominent pulls rather than knobs. Occasionally, pulls are omitted, enhancing the flat, functional profile. Frequently, contemporary designs of modern cabinets eschew the appearance of wood for a cleaner, smoother material such as melamine or other plastic-based laminates. These often cover recycled wood products such as particle board or medium-density fiberboard.
The design of modern cabinets does not have to mean contemporary. A wide array of different styles and designs allows homeowners to choose anything from a warm, country-cottage theme to a stark, black-plastic appearance. When the range of styles available in cabinet stores, home centers and other resellers does not suit the homeowner, a knowledgeable and experienced cabinetmaker can provide what the retail outlets lack.
Home organization and storage once meant open shelving and an array of free-standing storage furniture such as dry sinks, china cabinets and buffets. Modern cabinets can be mounted to walls in rooms throughout homes and businesses. Rather than simply hiding possessions and helping organize them, modern cabinets often are the style and theme around which a home's décor is built.