What Are the Different Types of French Pastry Desserts?
Along with its wines, cheeses, and a host of savory delights, France is renowned for its dessert pastries. While there are a great many French pastry desserts, many of the most well-known pastries are made from one of just three types of dough: choux, puff pastry, and croissant pastry. Popular French pastry desserts made from the type of dough known as choux include profiteroles and éclairs. Common puff pastry-based desserts include mille feuille and tarte aux pommes. Croissant dough forms the basis for such dessert pastries as almond croissants and pain au chocolat.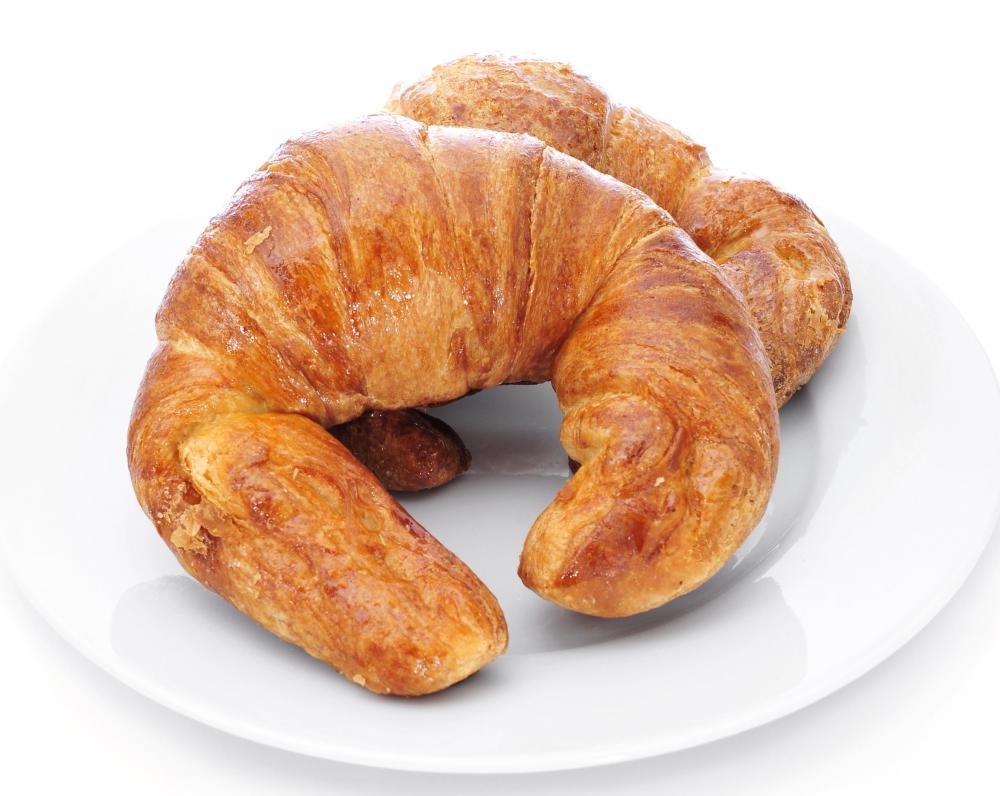 Two of the most well-known French pastry desserts, profiteroles and éclairs, are made from a dough called choux. This dough, made from butter, eggs, flour, and water, has a soft, airy center and a firm outer surface. A profiterole, also known as a cream puff, consists of a round piece of choux which has been baked, cut in half, filled with sweetened cream or custard, and then reassembled. Éclairs consist of oblong pieces of choux which have been baked, cut in half lengthwise, and filled with flavored cream or custard, nut paste, or jam. The top portion of the choux is then replaced and iced.
Puff pastry, which consists primarily of flour, butter, and water and which gets its tender-yet-flaky character from being repeatedly rolled out, forms the basis of two more renowned French pastry desserts, mille feuille and tarte aux pommes. Mille feuille, which means "a thousand sheets," consists of a many-tiered wedge of baked puff pastry which has been infused between layers with flavored cream or custard. Often, its top layer is iced with a decorative pattern. Tarte aux pommes, or apple tart, is made up of a layer of puff pastry topped with carefully-arranged, thinly-sliced apples and, in some cases, custard, and then baked.
Finally, some of the most common French pastry desserts are made from croissant dough. Croissant dough is somewhat similar to puff pastry, but it contains less butter and is also made with yeast, giving it a texture that is at once flaky and bread-like. Popular desserts made from croissant dough include almond croissants and pain au chocolat. An almond croissant consists of a triangle of croissant dough which has been rolled into a horn shape, topped with slivered almonds, and then baked. Once baked, the croissant is cut in half horizontally so it can be filled with almond paste or almond cream.
Pain au chocolat is made from a rectangle of puff pastry which is filled with chocolate and then rolled up. The pastry is then baked, causing the chocolate in its center to melt as the crust rises. French pastry enthusiasts claim that a pain au chocolate is best eaten fresh from the oven, before its chocolate filling has a chance to harden.