What are the Different Types of Eyebrow Piercings?
There are several different types of eyebrow piercings, including vertical, horizontal, and spiral. The most popular type of eyebrow piercing is probably the vertical kind. In addition to these, people often get creative and come up with their own, unique designs. The average eyebrow piercing generally takes one to two months to heal regardless of what type is done. Ensuring that an eyebrow piercing heals fast typically means following all aftercare instructions perfectly because inadequate care could lead to infection and longer healing times.
The most common type of eyebrow piercing to get is probably the vertical kind. This type is typically done on the outer corner of the eyebrow, and the needle usually goes in at the ridge of the eyebrow to just beneath the edge of the eyebrow. After the piercing is done, a barbell piece of jewelry is typically placed through the hole. Barbells normally look like bars, which may be either curved or straight, with small metal beads on each end that screw on and off to keep the bar in place.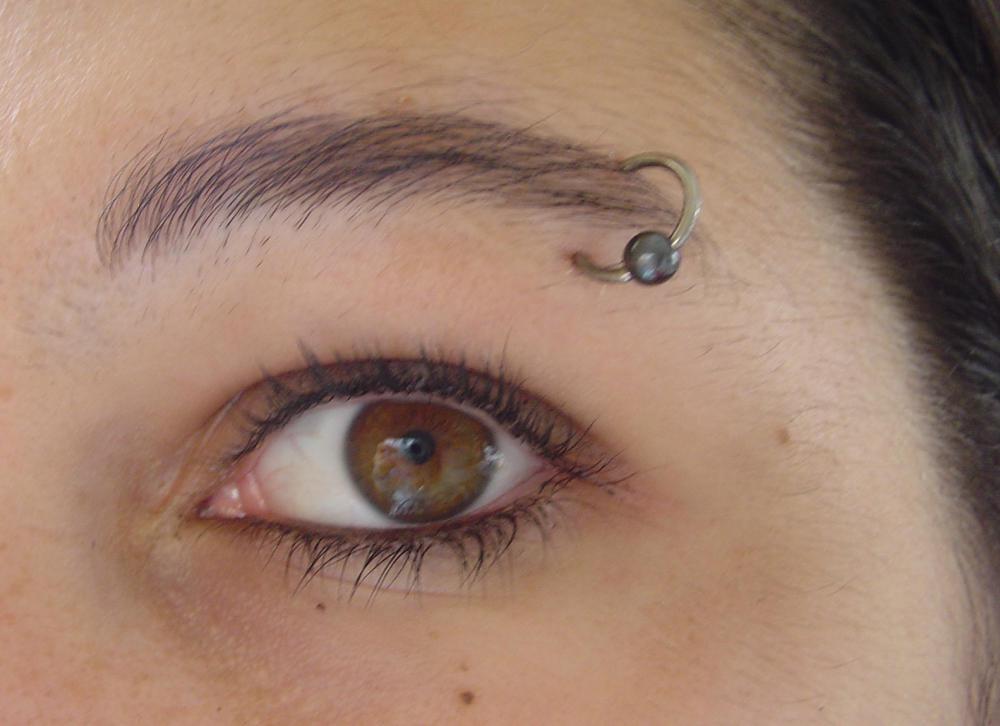 In addition to vertical eyebrow piercings, people also occasionally get horizontal piercings done. The horizontal type normally go across the top ridge of the eyebrow. Instead of the needle going through the eyebrow at a vertical angle, it goes through at the top edge of the eyebrow at a horizontal angle. Most people use barbell jewelry for piercings like these as well. These are not as popular as the vertical kind, but they may be the second most popular type.
Another popular type of eyebrow piercing is the spiral. Spiral eyebrow piercings usually consist of three to four holes in the eyebrow, some of which are toward the top of the eyebrow and some that are along the bottom. Jewelry that is in a spiral shape is normally used for this type of piercing. The holes are placed in the eyebrow specifically so that the spiral jewelry can be wound through the eyebrow into each hole. Even though three to four holes is most common for spiral piercings, some people choose to have more than that because the jewelry usually comes in several different lengths.
Taking good care of any type of eyebrow piercing is typically crucial to ensure it heals quickly. In most cases, it will heal up completely within a few months. Even though it is rare, there are some people who have skin that refuses to accept their piercings, and these people might continually have problems with their skin actually pushing out their eyebrow jewelry. If this occurs, it is a good idea to visit the person who performed the piercing to see if there is anything that can be done to help keep the skin from rejecting it.