What Are the Different Types of Commercial Market Analysis?
Commercial market analysis is a procedure which evaluates a certain type of property in terms of its environment, structural features, and cash flow. It consists of several steps, usually involving a strengths, weaknesses, opportunities and threats (SWOT) analysis. Often, a full report containing several chapters supported by graphical interpretation will be part of the final analysis. A commercial market analysis is performed based on the factors that might influence the business during the short and long term from both a legal and an economic point of view.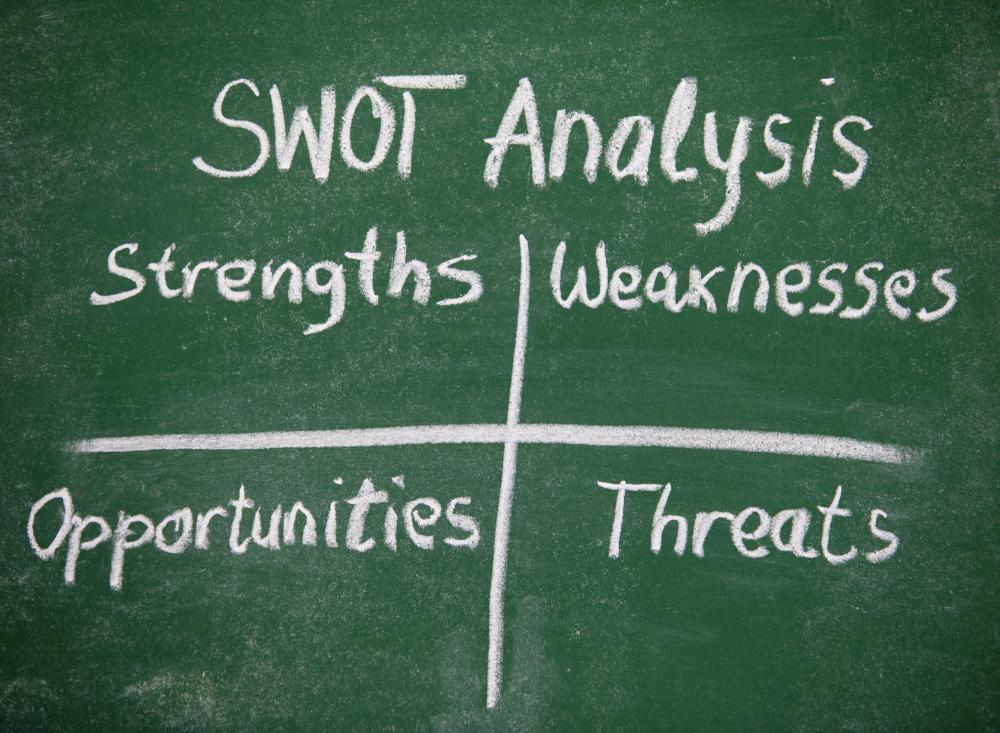 The main purpose of a commercial market analysis is to determine the market value of a business. A commercial market analysis is often required by third parties who planning to invest in or purchase a business and often includes the real estate the business is located on. There are many factors that influence the value of a business, such as the viability of the location and the parts of the population that will be attracted to it. A commercial market analysis report comprises several chapters, usually called exhibits, which, individually, refer to these factors and others.
In a SWOT analysis, an example of strength might be the central location of a business building or establishment. Highly trafficked areas are generally thought to attract potential clients and would raise the strength score. A weakness might be the high rate of crime in the area in which the business is located.
Opportunities in a SWOT analysis may vary a great deal, but are generally indicative of circumstances under which the business might benefit. An example might be the ability to hire highly qualified employees in the area, at an affordable rate. Threats in a SWOT analysis detail anything that could bring harm to the business, such as a high number of competitors in close proximity to the business.
An environmental analysis is used to evaluate the location and structural features of a building as well as the external forces that might influence the activity of the company. For example, foot traffic, parking availability, and other nearby businesses would be considered external forces. This kind of environmental analysis is commonly created using the SWOT methodology, in order to reveal the main factors that will influence or have already influenced the development of the business.
A commercial market analysis often goes hand in hand with an industry analysis, which assesses the profit potential of an industry. There are several criteria taken into account when performing this type of analysis, such as the bargaining influence of the seller, the negotiating power of the purchaser, the risk of substitutes, and a detailed look at rivalry among business competitors. An industry analysis is often considered to be one of the most revealing aspects of a commercial market analysis, as the factors described here will almost certainly have a significant and direct impact on the annual income of the business in question.