What are the Different Nebulizer Parts?
Various types of nebulizers require specific parts that convert liquid medication into some form of vapor, which patients inhale. Each unit generally consists of a motorized device that transforms the medication, the chamber that holds the liquid and subsequent vaporized medication, and the apparatus that delivers the aerosol to the patient. Jet, ultrasonic wave, and vibrating mesh are the most common types of spray nebulizers used by individuals. Individuals typically find replacement nebulizer parts through the device manufacturer or at locations selling medical supplies.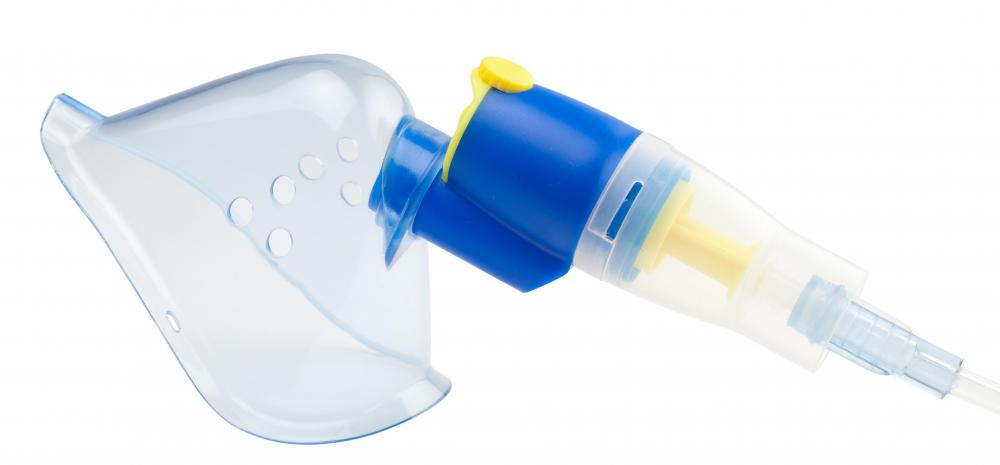 Conventional jet nebulizers, also known as atomizers, typically have a portable compressor, weighing less than 2 pounds (about 0.9 kg). This compressor generally runs on household current, plugging into a wall socket. The nebulizer parts for this apparatus include flexible vinyl tubing, which attaches to the compressor and to the handheld medication cup. The cup may contain a small inverted funnel that forces air into the liquid, converting it to aerosol form. A plastic tee attaches to the top of the cup with a mouthpiece on one end and a corrugated plastic tube on the other, which provides ventilation.
This type of machine has variable nebulizer accessories. The vinyl tubing connecting the compressor to the medication cup is usually available in varying lengths for the convenience of the patient. Other nebulizer parts include an elasticized nebulizer mask that a patient wears over the face or over a tracheostomy tube, enabling hands-free operation. The ventilated masks generally fit over the top of the medication cup in lieu of the tee pipe apparatus. Aerosol drainage bags that trap excess water might also be implemented, allowing the recipient to inhale a greater concentration of vaporized mist.
Ultrasonic nebulizer models are handheld or small tabletop devices. Either battery powered or using electric adapters, the devices produce vibrating sound waves that convert liquid medication into micron-size particles for inhalation. This machine generally uses fewer nebulizer parts, as the medication cup, baffle plate, and valves are contained within the power supply unit. A corrugated inhalation hose connects to the main unit on one end and to a mouthpiece or mask on the other. Manufacturers design certain models with a built-in aerosol warmer.
Vibrating mesh devices contain similar nebulizer parts as ultrasonic models, with the exception of a mesh cap, which fits into a removable medication bottle. Vibrations force liquid medication down through the mesh cap, converting water droplets into a fine mist. The vapor emits through a mouthpiece or mask attached to the nebulizer by a small plastic adapter. The handheld power supply unit operates on replaceable batteries or by an electrical adapter.