What Are the Different Haircut Styles for Fine Hair?
Fine hair, properly cut, projects a charmingly soft innocence. From feathery layers to cropped cuts, the right haircut styles for fine hair enhance its delicacy rather than allowing it to flatten down. As there a number of types of fine hair, it's important to determine the hair's other qualities in order to select the right cut.
Fine hair is not always the same as thin hair. Thin hair means fewer follicles in a given area, while fine hair simply has a narrower diameter than thicker hair. Some fine hair is, indeed, also thin, but on many heads, fine hair can also be plentiful. In addition, some fine hair is extremely straight, some carries a natural wave, and some fine hair is very curly. Besides genetics, the quality of a fine head of hair is partially determined by medication, age, stress levels, and diet.

Get started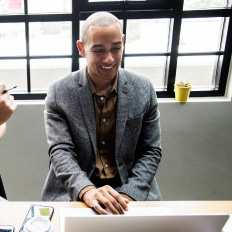 Wikibuy compensates us when you install Wikibuy using the links we provided.
Among the most popular haircut styles for fine hair is a cut boasting light layers from chin length to below the shoulders. The best length depends, in part, upon the face shape as well as the type of fine hair. The layers, which should be cut on the diagonal, support one another as the hair is dried, giving a sense of greater, fuller volume when freshly washed hair is dried with a blow dryer. This cut loves movement; simply turning the head sets it ashimmer.
A crop cut is a good choice for anyone with a strong, clean chin line. This cut is tapered and fairly short, and it complements younger women. As the hair is angled forward, it draws attention to the eyes.
For those with long or wide foreheads and oval-shaped faces, a cap cut is a good choice. This cut's fringe, or bangs, also complements petite women. It's important to work with a stylist who understands the best haircut styles for fine hair because face shape as well as hair texture must be determined in order to decide how deeply the fringe should be cut.
Everyone loves a well-cut bob. Fine heads of hair do well with this cut as its shape makes the hair appear much fuller. Bobs can range from earlobe to shoulder; the best length will depend upon whether the hair is straight, wavy, or curly, as well as upon face shape.
A contemporary take on the bob is called the chop. Chops are cut at the same length as a bob, but the cut is irregular. Bobs that are overly blunt all around the head have a tendency to flatten limply. Chops resolve this by creating what are essentially layers at the bottom of the cut.
Regardless of the haircut style choice or hair texture, fine hair is easily weighed down by conditioners. Although it's important to select from among the many haircut styles for fine hair, it's equally important to choose hair products designed for fine hair. This ensures that nothing robs the style of its charm by making it appear limp or flattened.