What are the Differences Between Armour&Reg; Thyroid and Synthroid&Reg; Medications?
The difference between Armour® Thyroid and Synthroid® medications is that they contain different substances to combat thyroid issues. There is significant debate among the medical community as to which substance is more effective, but the general consensus is that the effectiveness of each medication varies from patient to patient. Armour® Thyroid and Synthroid® work in relatively the same way, but Synthroid® only contains one of the thyroid hormones that are essential to normal thyroid function. This hormone, T4, can be processed into the other essential hormone, T3, by the body. If the body has a hard time with this synthesis, or if it seems to have a hard time assimilating a synthetic substance, the more natural and complete alternative, Armour® Thyroid, is given.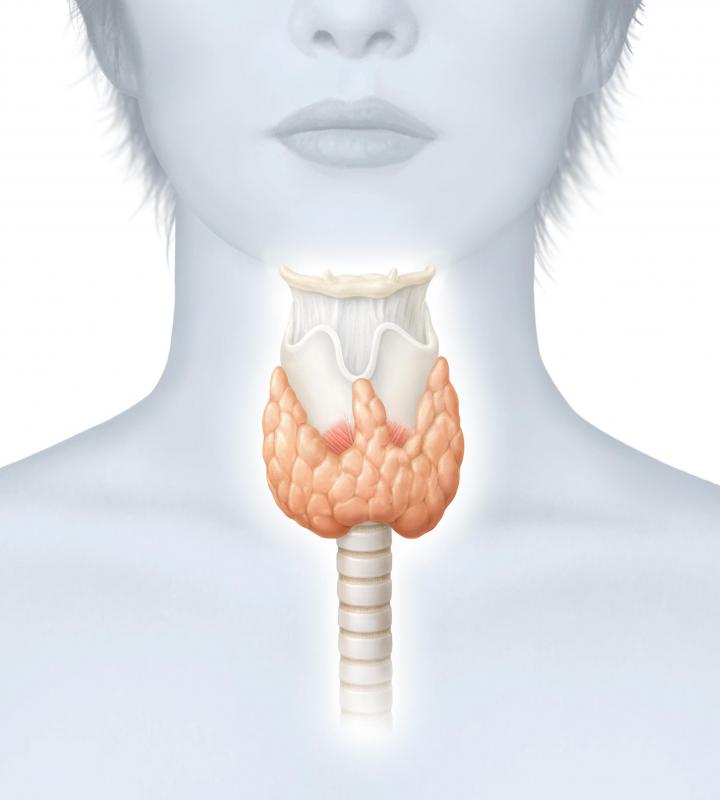 Armour® Thyroid, the more natural of the two medications, is made from the desiccated thyroid of an animal, most commonly, a pig. It contains both necessary thyroid hormones, T3 and T4, which is a benefit for patients who need substantial supplementation of both substances. Doctors sometimes hesitate to prescribe the more natural form of the drug because some studies have shown that the amount of the needed hormones cannot be adequately measured from an animal's thyroid, and in return, the patient may not get the needed dose of the substance. As research advances in this field, however, these concerns are being shown to be unwarranted, and Armour® Thyroid is given to many patients because they seem to tolerate a natural substance better than one made exclusively in a lab.
Synthroid®, a synthesized form of the hormone T4, has one major disadvantage because it does not contain T3. The debate among Armour® Thyroid and Synthroid® is fueled by this fact. This deficiency is often offset by taking another thyroid supplement, Cytomel, which contains the T3 hormone exclusively. Synthroid® is given alone and is then rated for its efficacy first, because often times, the patient's body can use T4 as a precursor to make adequate amounts of T3.
The time frame for observation used for all thyroid medications is about six weeks, because this is the time it takes for the body to adjust to the supplemented substance. Some physicians prefer prescribing Synthroid® because they can be assured as to the dosage of the substance as it is made exclusively in a lab. The other factor, however, that must be considered when choosing a regimen to place a patient on is how the person feels overall. Armour® Thyroid and Synthroid® each have pros and cons, but the majority of thyroid patients seem to feel better overall on the more natural alternative.