What are the Common Causes of Penis Swelling?
Penis swelling is generally caused by an injury to the penis, erection, or phimosis if the man is uncircumcised. While the penis is not injured nearly as often as other body parts, it still occasionally experiences trauma due to things like automobile accidents, sexual activity, or sports. Another potential cause of penis swelling is an erection, which can happen for many reasons other than sexual arousal, like needing to urinate, being asleep, or even death. Lastly, complications of a phiomosis case, a health condition that causes the foreskin not to retract, can lead to swelling of the penis. These causes are all quite common and in general are not life-threatening or untreatable.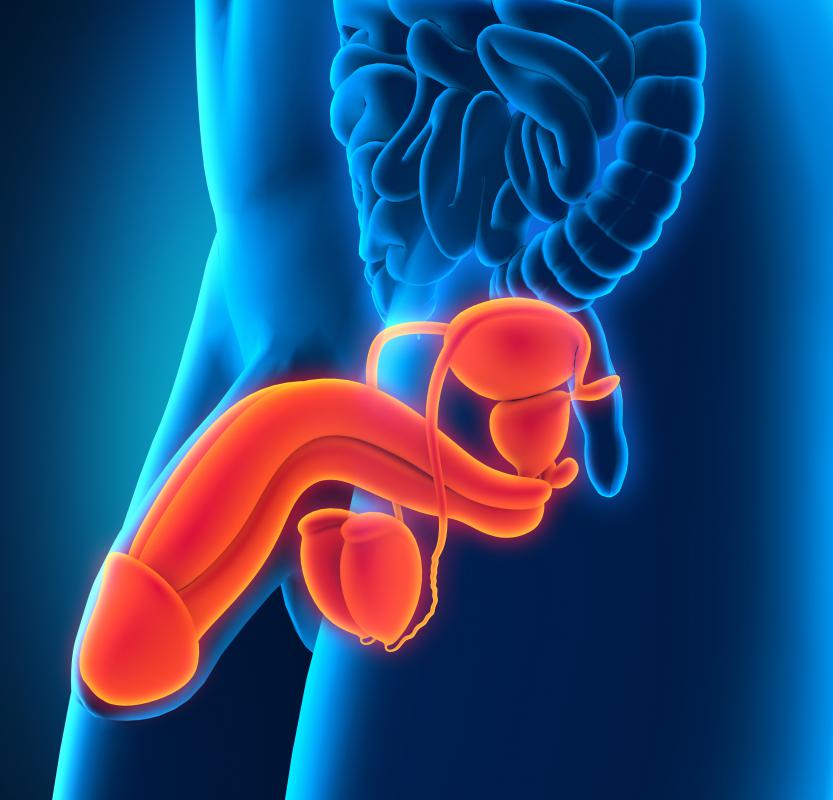 The development of an erection includes the penis becoming swollen and typically leads to a marked increase in girth, length, and firmness. Penises often become erect due to sexual arousal or stimulation, but there are a few other possible reasons for the development of an erection. When a person is asleep, the penis typically becomes erect a few times during rapid eye movement (REM) sleep cycles, though nocturnal erections can also be caused by conscious or unconscious sexual interaction with a sleep partner. Another cause of erections and penis swelling that can happen while asleep or awake is a full, or near full, urinary bladder. Death can sometimes result in an engorged and swollen penis and is often associated with pressure on the brain, spinal cord, and quick deaths.
Phimosis is a condition wherein the foreskin of a penis cannot be retracted. The condition itself does not cause penis swelling, but complications that sometimes occur may result in swelling and pain. Phimosis is normally cured with creams, manually stretching the foreskin, or circumcision. This condition can only present itself when a male has foreskin, so men who were circumcised at birth or any other time before experiencing penis swelling are suffering from another condition.
Penile injuries can cause a great deal of swelling depending on the severity of the damage. One common cause of penis swelling is the result of an injury during sexual activity. For example, if bent too sharply, a penis can become fractured, which is typically accompanied by a popping sound and pain. Swelling and bruising will usually follow, and treatment via surgery is normally recommended. This type of surgery may require a day or two in the hospital and a follow-up appointment with a doctor once the patient is released.
Causes of penis swelling are generally treatable.

Trauma can cause penis swelling.

Injuries to the penis can cause a great deal of swelling.

Penises often become erect due to sexual arousal or stimulation.

A full bladder may cause penis swelling.

An allergic reaction to condoms might cause penis swelling.