What are the Causes of Fatigue in Children?
Fatigue in children can be caused by improper diet, poor sleep habits, stress, medical conditions such as anemia and thyroid disorders, or chronic infections such as walking pneumonia and mononucleosis. When a child suffers from abnormal fatigue, it is best to first evaluate his diet and sleep patterns, and monitor him for any evidence of unusual daily stress. If these observations do not suggest a problem, then the child should be then be watched for any signs of a medical issue and be seen by a pediatrician.
Upon noticing fatigue in children, the first problem to watch for is an improper diet consisting of junk food, which is void of the nutritional energy found in fruits, vegetables, and low-fat, high quality proteins. Changing eating habits and taking a multi-vitamin can often alleviate fatigue. Lack of sleep is another reason for fatigue in children. A child should be on a regular routine, which includes a reasonable bedtime with 8 to 10 hours of sleep each night for most children, and up to twelve hours for toddlers. Stress can lead to fatigue in children, so the parent should watch for signs of stress such as mood swings, irritability, bedwetting, and increased nail biting or thumb sucking.
Chronic infections can place a great deal of stress on the body and produce fatigue in children. Children are susceptible to walking pneumonia, and fatigue is a common symptom along with complaints of feeling cold, headaches, persistent runny nose, and aches in the abdomen, ears, eyes, muscles, and chest. Fatigue is also one of the most common symptoms of mononucleosis. Other signs of mononucleosis are headaches, sore throat, chills, fever, muscle aches, and swollen lymph nodes. If the child is suffering from fatigue and any of these symptoms are observed, a pediatrician should be seen.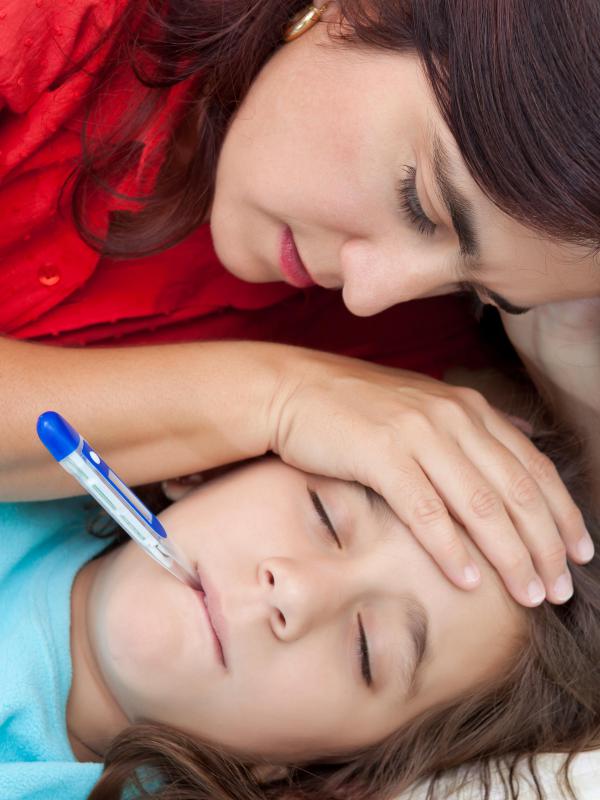 Anemia is a deficiency of red blood cells and fatigue is a primary symptom. When anemia is suspected, the child should also be watched for rapid heartbeat, shortness of breath, poor focus, dizziness, leg cramps, and pale skin. Fatigue is a common symptom of both hypothyroidism, a low-functioning thyroid, and hyperthyroidism, an abnormally high-functioning thyroid. Other symptoms of hypothyroidism include weight gain, being cold all the time, torpid thinking, and constipation, while symptoms of hyperthyroidism include nervousness, irritability, rapid heartbeat, and weight loss. Thyroid disease is treated most often with prescription medication and periodic blood tests to monitor thyroid hormone levels.