What Are the Best Tips for Making an Iris Bouquet?
Irises are large flowers that can be used to make an attractive, showy bouquet, whether you cut your flowers at home or buy them from a store. An iris bouquet is typically tall, but you can blend shorter stalks in with the larger ones to add to the visual appeal of the bouquet, as well as mixing colors. It is important to handle the cut flowers carefully so that they will last as long as possible by keeping them in water from the moment they are cut, feeding them, and being careful where you place them so that the iris bouquet won't die too soon.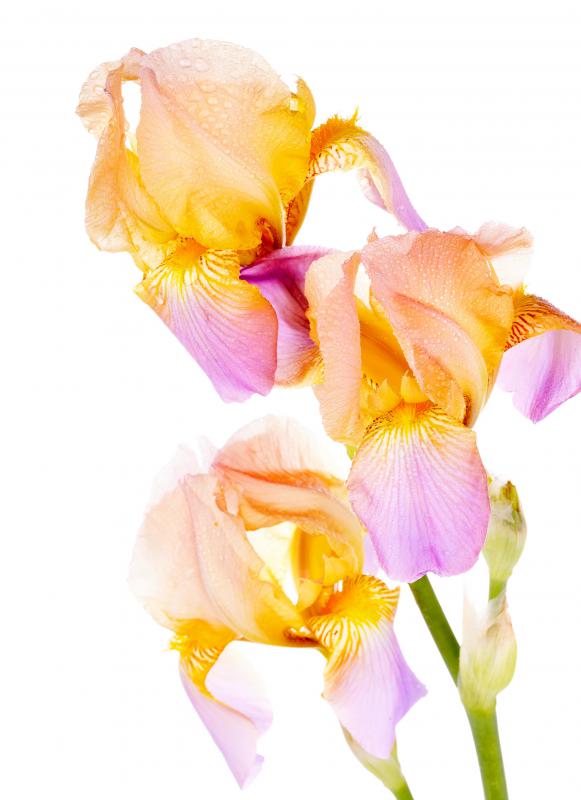 In addition to deep blue or purple, irises come in many different colors, including white, yellow, and orange. An iris bouquet can either be a collection of flowers of a single color, such as all purple, or it can be a mix of many colors, such as a combination of yellow, white, gold, and blue. Choose a color that goes with the room the bouquet will be placed in, or use contrasting colors to make the flowers pop out of their surroundings.
Careful handling of the flowers will help to ensure that an iris bouquet lasts as long as possible. Flowers should be cut only after the bloom is fully opened, as an iris will not usually finish blooming in a vase. They are best cut from the garden in the early morning, when the stems contain as much water as possible, giving the plants a firm, upright appearance. Clip down low on the stalk with sharp shears to avoid crushing the stems, cutting at a 45° angle to provide more area for the flower to take up water. Immediately place the cut flowers in a bucket of water so that they don't have time to start drying out, which will help them to stay fresh much longer.
When you arrange an iris bouquet, avoid keeping the flowers out of water more than a few seconds, if at all possible. If you do have to take them out, or if you are arranging flowers that you purchased rather than cut from a home garden, you can help to extend their useful life by placing the end of the stems under water and trimming them without lifting them out. Immediately move them into a vase full of water and leave them there. Don't place the iris bouquet near ripening fruit, especially apples, as the gases that fruit gives off can cause your flowers to wilt prematurely.
Add nutrients to the water for the iris bouquet to provide essential nutrition that will help the flowers to last longer. You can buy pre-packaged additives for cut flowers that not only provide carbohydrates to extend the life of the flowers, but also contain antibacterial components that help prevent the growth of unwanted organisms in the vase. If any flowers look dead, remove them immediately; also, if there is any slime clinging to the other flower stems, rinse them off, rinse out the vase, and re-fill it with fresh water and nutrients.