What are the Best Tips for Installing a Basement Bathroom?
One of the most common and popular home improvement projects is the addition of a basement bathroom. Multiple bathrooms improve the value of a house and are often added for extra convenience for the family. When planning to take on this kind of project, it is important to be sure to have the proper tools and supplies at hand, have a layout for the walls and appliance in place, and have the proper building permits if applicable. The placement of the new bathroom is crucial and must be decided on carefully for the best results. Many people also choose to have a reputable plumber or inspector come see the finished bathroom to ensure it meets code and is safe for use.
Each basement bathroom remodel is unique, though there are specific items that will be required for any successful project. In addition to the bathroom fixtures, it is also necessary to have supplies including a tape measure, chalk, and specialized plumbing tools. Pipes of varying lengths and sizes are likely to be necessary as well. Framing timbers and drywall are essential components for creating walls for the new bathroom in the basement along with paint or wallpaper to complete the design. Many home improvement experts suggest waterproof flooring for bathrooms and some examples include ceramic tile, linoleum sheeting or tiles, and some composite materials.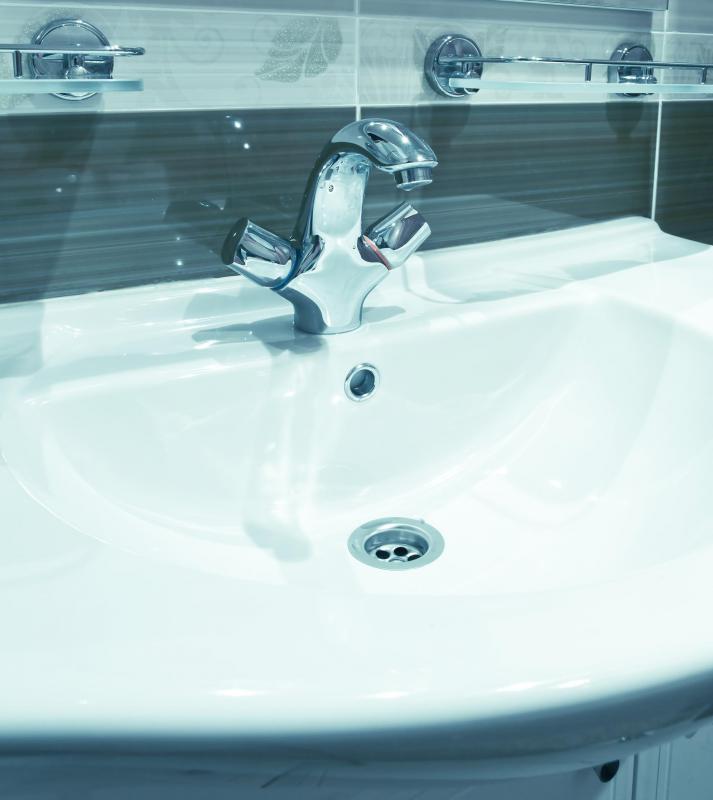 Before any construction on the basement bathroom can begin, a location has to be chosen, preferably as in-line to the upstairs bath as possible. This helps to ensure that proper plumbing, piping, and sewer lines are close by, and will reduce costs in new materials. Once the location is chosen, a careful analysis of the available space is important for bathroom construction. Many people sketch out their bathroom layout and take measurements to ensure the space is adequate for the plans. This is also crucial when choosing the fixtures to be sure the layout can accommodate the fixtures chosen.
The construction of the walls and drywall hanging are the first elements necessary for the basement bathroom project. It is recommended to use water resistant dry wall as it helps reduce the likelihood of moisture damage from the shower or tub as well as water damage from the room's basement location. Once the walls are installed, the next step is to install the bathroom fixtures including the sink, toilet, and tub or shower if being included in the bathroom. In some cases, it may necessary to purchase an upward flow toilet if the bathroom is located lower than the existing sewer pipes. To ensure the bathroom is safe and up to code, many homeowners choose to have a professional visit and inspect the work before using the new addition.