What are the Best Tips for Growing Basil?
Growing basil indoors may have a number advantages, but many people grow it outdoors. Basil is relatively easy to grow because it can flourish in any soil that is moist and has adequate drainage. The plant also grows well in sunny, hot, and humid environments.
Spring planting is preferable for basil plants, especially if grown outdoors. Planting it in the springtime will allow the plant to grow for a longer period and will expose it to as many hot and humid days as possible. Basil grows exceptionally well in mid to late summer, and planting in the spring allows the plant to become established and gain full advantage of the hot summer days. When growing basil indoors, misting the leaves with tepid water or placing the plant on a tray of wet pebbles may imitate a humid climate, and the room temperature should not drop below 60°F (about 24°C).
The early and frequent harvesting of leaves can promote growth. When the plant reaches six inches (15.24 cm) in height, removing the tops will prevent the plant from having long stems with few leaves. If removing an entire stem instead of cutting individual leaves, cut the stem just above a set of leaves to encourage new growth. It is also a good idea to pinch off any flowers as they appear to increase the plant's longevity.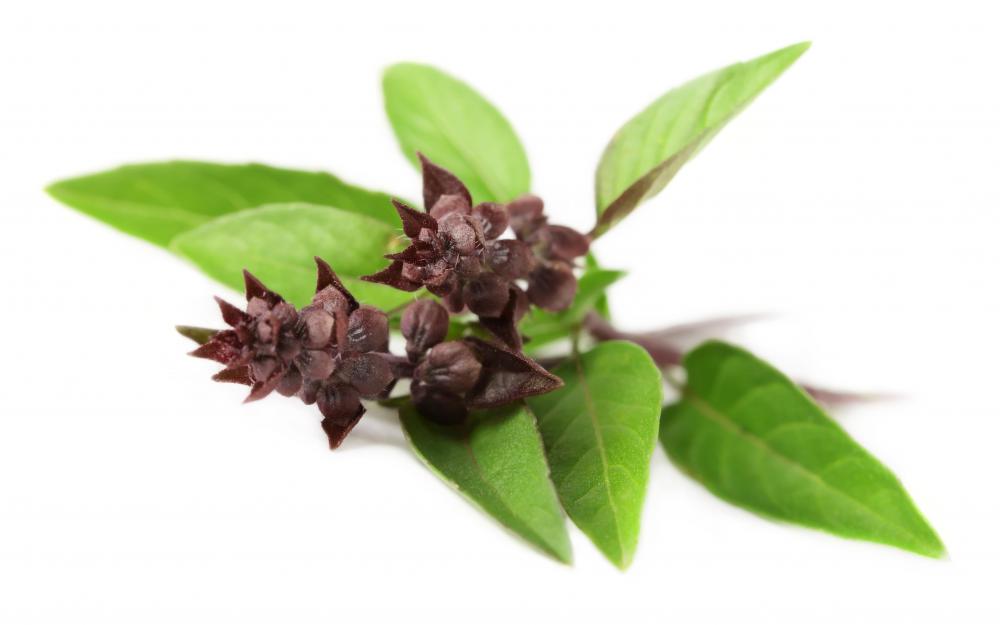 Basil requires a significant amount of light. Both indoor and outdoor plants will flourish if they receive at least six hours of direct sunlight each day. If growing basil inside, people may need to use artificial lights, placed six inches (15.24 cm) above the plants. Fourteen hours of artificial light is equivalent to six hours of natural light. Turning potted plants may prevent them from leaning, because basil grows toward the light source.
Although growing basil outdoors usually does not require fertilizer, indoor basil may struggle without additional nutrients. Plants grown indoors may benefit from a biweekly dose of fertilizer that is high in nitrogen. Soil that retains water and has good drainage will promote healthy growth for outdoor plants without the provision of fertilizer.
Many people enjoy growing basil indoors so that they can harvest it all year, but harvesting outdoor basil at the end of the growing season will allow gardeners to use the herb during the winter months. Drying and freezing are both good options. If dried basil is preferable, bind and hang the stems until dried, crumble, and place them in a glass jar or other container with a lid. Freezing whole stems or chopped leaves preserves the fresh basil taste.