What Are the Best Tips for Covering Dark Circles?
Under-eye dark circles can affect self-image and tend to make a person look tired and worn out. They may be caused by too little sleep, allergies, illness, or they can be hereditary. There are many remedies available to combat dark circles, but the best method for covering dark circles is often to use cosmetics. For best results, an eye cream should be applied to the area before make-up is applied.
The skin under the eye is very thin and sensitive. When covering dark circles, an eye cream or lotion should first be applied to the area. This will help moisturize the skin and will keep make-up from caking and settling in any fine lines around the eye. A non-greasy eye cream should be used, and ample time should be allowed for the moisturizer to penetrate the skin before cosmetics are applied. A make-up primer, which prepares the skin for make-up and helps it stay fresh, may be applied after the moisturizer.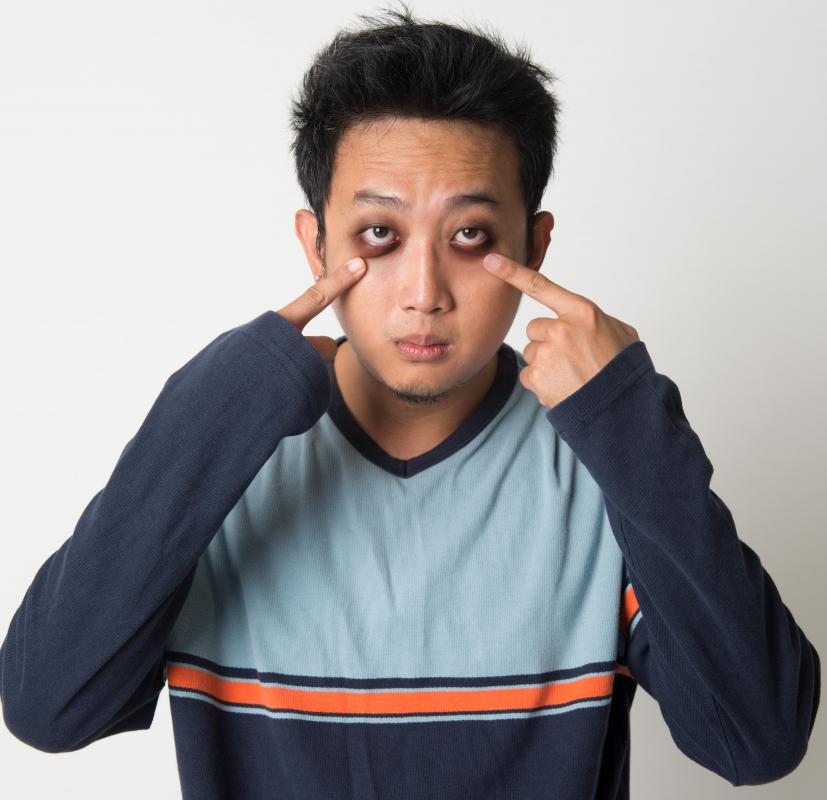 Foundation should be the first make-up to be put on the face, with a thin layer applied to the area under the eyes. A sponge, make-up brush, or clean fingers can be used to gently rub and pat the foundation into the skin. The foundation should even the skin tone and conceal some of the darkness under the eyes.
As its name indicates, a concealer works very well at covering dark circles, and this can be used under the foundation. A formula designed for hiding under-eye circles should be used for maximum coverage. A good concealer for this problem typically has a slight yellow tone, which helps offset the blue or purple appearance of the dark circles. It is important to use a concealer that is close in color to the skin, as one that is too light may look unnatural and draw attention to the problem area. A make-up brush designed for the application of concealer may work best to apply and blend this kind of make-up.
A loose powder can be applied to the whole face, including the area under the eyes, to set concealer and foundation, and keep make-up looking fresh throughout the day. A large, fluffy make-up brush should be used to apply a light layer of powder under the eyes. When covering dark circles with cosmetics, it is important to not apply any of the make-up too thickly. Heavy make-up may cover the dark area, but too much has the tendency to enhance lines and wrinkles, and look unnatural. Light, well-blended layers of foundation, concealer, and powder should correct the dark circles while making the face appear natural and refreshed.