Skater shoes are athletic shoes designed to be used while skateboarding. Their features are primarily intended to prevent injuries to the foot and give the skater better control over the board. Popular brands also carry skater shoes for non-skaters to wear as a fashion statement. The shoes come in a variety of shapes, colors, and sizes, and fresh styles are introduced to the market each year.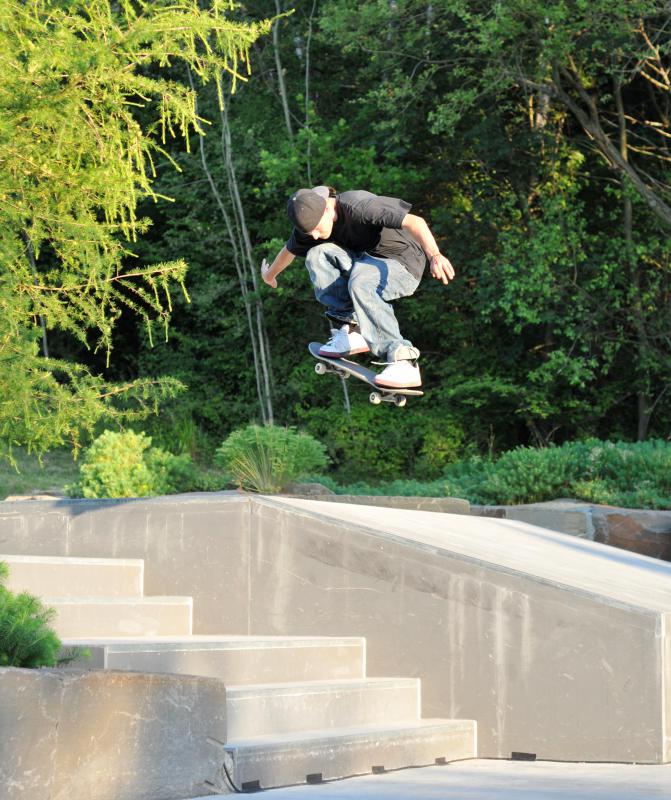 Skater shoes are recognizable for their distinct physical features, primarily in the soles, material, and shoe tongues. The soles of skate shoes are thick, wide, and made of rubber, which serves the double purpose of protecting the foot from injury and improving the skater's grip on the board. The shoe itself is made of suede and combination leather, which are reinforced and sewn using double or triple stitching to keep the seams from falling apart. Skater shoes have thick, padded tongues that add further protection, and the lace holes are reinforced with metal to keep them from getting torn out of the shoe.
The insides of skater shoes are just as thoughtfully designed to minimize the impact of stress injuries on the ankle, heel, and arch. Highly-absorbent padding is placed on key areas in the insole to provide a safer, more comfortable riding experience. The special cushioning on the mid-foot lends arch support and prevents cramps, while the cushioned rear prevents bruises on the Achilles heel. Cups on the toes and heel keep the foot in place and minimize blisters caused by friction.
Manufacturers of skater shoes have their own variations of safety features. Some have an extra layer on the toe cap and a cushioned heel pad, while others specialize in streamlined designs that stick to the shoe's basic function. Many skater shoes have the standard vulcanized rubber sole, which gives a good "board feel," but others have thicker cup soles that are more comfortable, yet less durable. It is important that each skater try on various shoes to find one that fits his foot and skate style best.
Style is the least important feature of a skater shoe, although these sneakers have gotten the attention of non-skaters who buy pairs for their color or design rather than their function. Manufacturers of skater shoes have capitalized on this by releasing limited-edition designs that follow the colors and trends of the current fashion season. Even popular non-skater sportswear brands offer a selection of shoes for the fashionable individual.