Power racks are the backbone of weightlifting equipment. They are available in a multitude of configurations designed to help weightlifters perform all major lifts, while keeping safety in mind. Power racks are pieces of equipment designed to hold weightlifting bars in order to allow weightlifters to lift the bars from different positions. Most power racks are made with 7-gauge steel for strength and durability. The basic standard features of power racks include two vertical bar holders, an easy adjust safety spot bar, a multi-grip pull-up bar, and hook bar catches with a two point locking system.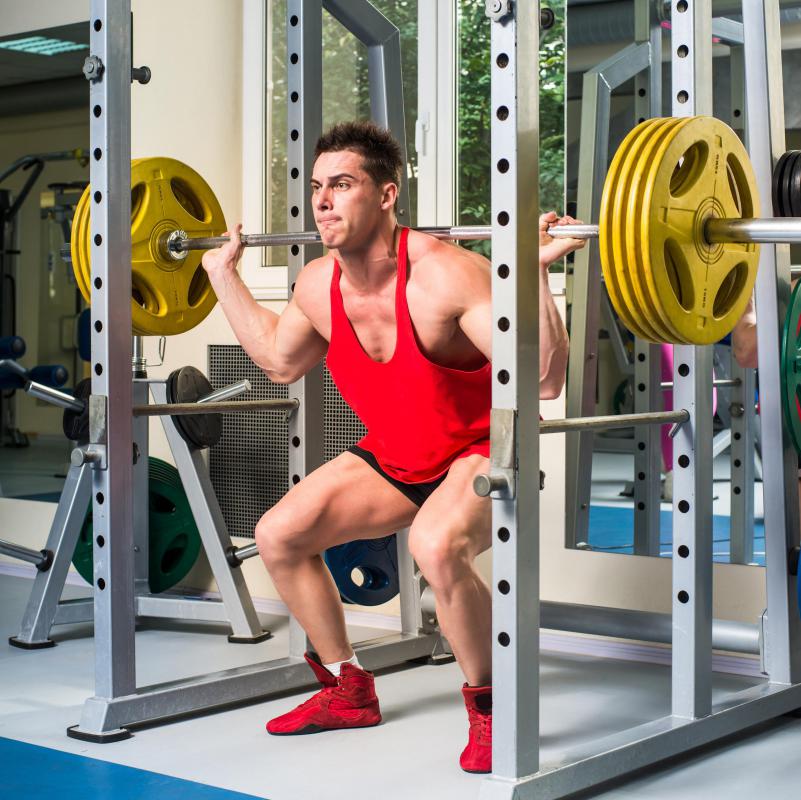 Power racks are usually found in collegiate and professional athletic programs, as well as anywhere there are professional power lifters. Some of the more common lifts power racks are used for include the squat lift, the cleans bench press, the incline bench press, the military or front press, and the snatch press. Most power racks come in heights of 8 to 9 feet (about 2.44 to 2.74 meters). Experts suggest adding another 1 to 2 feet (about 0.30 to 0.61 meters) when the power rack is to be used with pull up handles.
Power racks work by incorporating pneumatic strength columns. These can be attached to the bar to allow the use of free weights. People who traditionally train with power racks report an overall improvement in strength gains and better speed, control, and power. Power racks add safety to athletic training programs by ensuring that lifters do not dead lift from the floor. Sports doctors have long recommended using power racks, particularly when working with free weights.
Power racks are usually not stand-alone racks. In fact, most come with many attachments that are designed to enhance the workout. Some of the standard attachments that can be purchased for power racks include a lever action bench, which is a removable locking bench, reverse bar catches, technique and training tech trays, a platform with insert dip attachments, rotating adjustable pull-up handles for hitting the lower abs, and safety spot handles for added safety when lifting alone.