What are Common Causes of an Ear Infection with Pus?
Pus is a thick fluid, often yellowish in color, which contains immune system cells and damaged tissue, and is typically found where an infection is located. In the case of an ear infection with pus, the most common cause is bacteria infecting the outer passage of the ear, also known as the external auditory canal. For pus to be visible, the infection is more likely to be located on the outer side of the eardrum, although occasionally an infection of the middle ear can burst the eardrum and pus will escape. Some people have a tendency to develop recurring ear infections, and over-enthusiastic cleaning of the ears can irritate the canal and make infection more likely. A humid climate, skin diseases such as eczema, and swimming regularly can all increase the risk of an ear infection with pus.
Anything which damages the skin lining the external auditory canal may lead to inflammation there, known as otitis externa. Water, or bath products such as shampoo, can enter the ear, leading to irritation. Vigorous attempts to clean the ear canal sometimes remove the protective waxy coating which prevents the canal from becoming too moist, traps debris and provides an acidic environment unsuitable for bacteria. Any resulting inflammation and damage may worsen if itching is experienced and the person responds by scratching the inside of the ear, possibly breaking the skin. An ear infection that develops pus is then more likely to occur.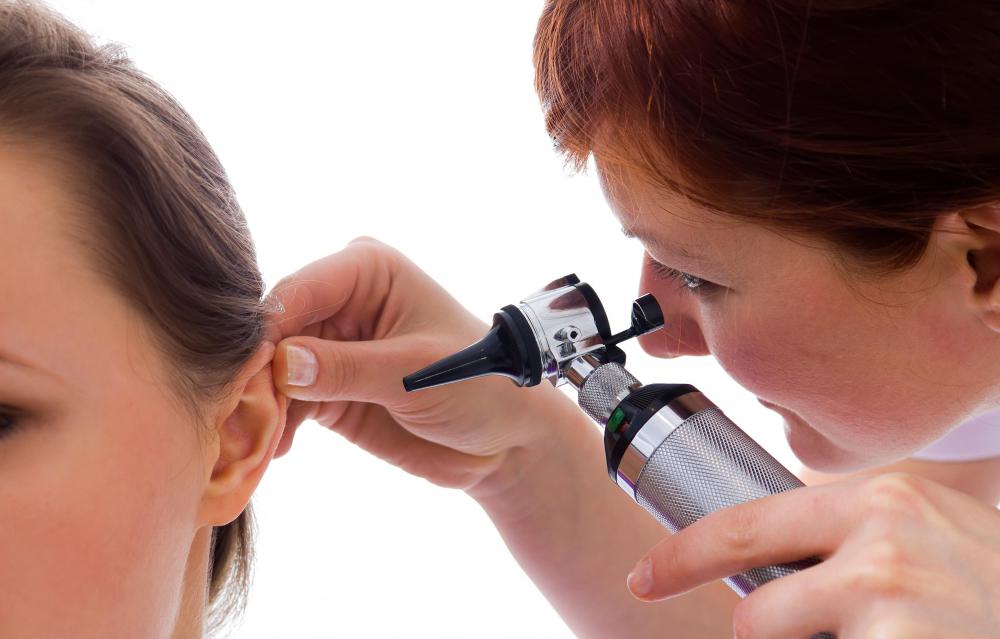 Skin conditions such as psoriasis sometimes occur inside the ear, causing the canal to become inflamed, with an increased risk of ear tube infection. An ear infection may even be the result of a syringing procedure to remove excess wax, if this leads to damage of the canal lining. People who swim regularly have a greater chance of contracting an ear infection with pus, and frequent swimming is one of the most common causes of ear infection. This is due to water entering the ear and making the interior less acidic, giving bacteria more of a chance to thrive.
Ear infection symptoms are variable but can include a feeling of fullness in the ear, hearing loss, pain and itching. The treatment of an ear infection with pus usually consists of ear drops, which make the inside of the ear more acidic and contain antibiotics to kill off bacteria. Pain-relieving drugs may also be required. In cases where the problem fails to resolve, and a chronic ear infection develops, referral to a specialist may be necessary. When ear infection and fever occur together this could be an emergency and it is best to see a doctor as soon as possible.