What are Arterial Ulcers?
Arterial ulcers are ulcers which are caused by an insufficient supply of freshly oxygenated blood which leads to slow wound healing and exposes the body to the risk of inflammation in wounds which become chronic instead of resolving. These ulcers are most commonly found in the lower extremities and are especially frequent on the feet in patients who experience them. There are a number of conditions which can cause arterial ulcers and people who are at increased risk of developing them may be given special directions by their doctors so that they can learn to identify such ulcers quickly.
When the arteries are not supplying enough fresh blood, it is hard for wounds to heal. A small cut or scrape can fail to resolve, and skin which is damaged because of jutting bone, poorly fitting shoes, or chafing clothing will not heal. Likewise, if the nails are cut back too far or a nail becomes ingrown, this can also cause a poorly healed injury. Over time, this can develop into an arterial ulcer.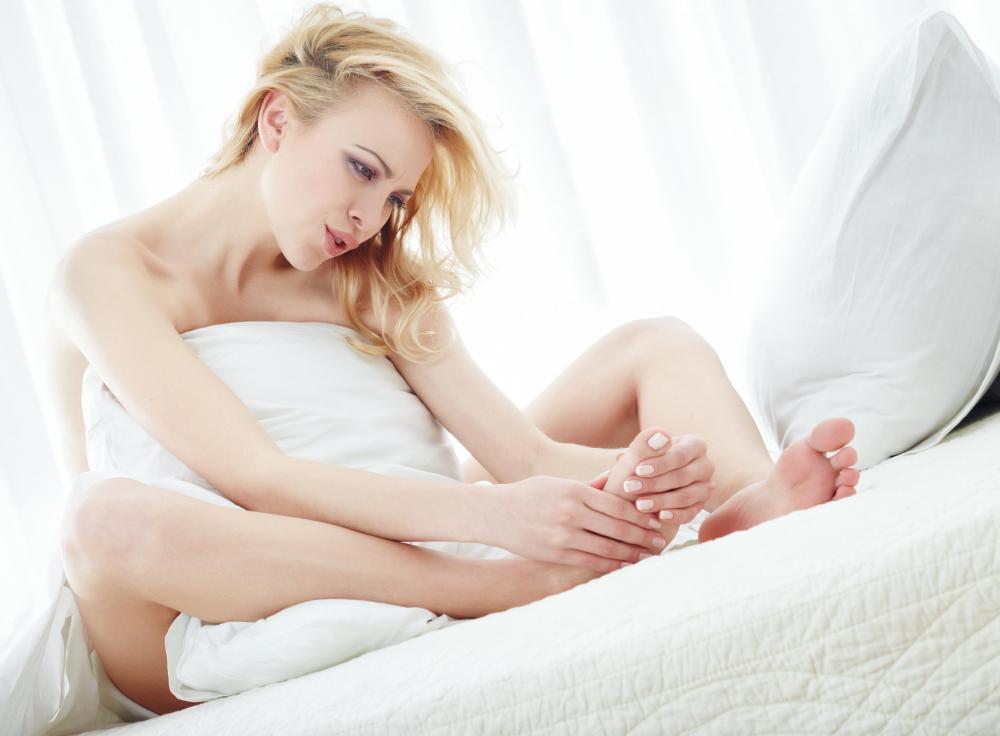 Arterial ulcers are characterized by areas of sunken, pitted tissue which may seep with wound exudate. The surrounding area can be yellow, brown, reddish, gray, or black in color. Since the ulcer often becomes inflamed or infected, it may be reddish, tender to the touch, and swollen. Over time, the ulcer can spread. Arterial ulcers are usually very painful. It is possible to have just one ulcer or multiple ulcers.
Causes for arterial ulcers can include chronic arterial insufficiency, diabetes, atherosclerosis, high blood pressure, and cardiovascular disease. Also known as ischemic ulcers, these ulcers are a cause for concern among such patients. They can also appear in seemingly healthy patients since sometimes the signs of arterial obstruction are not readily apparent until the patient starts developing secondary complications like ulcers. In patients who are known to be at risk, prevention includes careful management of the patient's chronic condition, along with promotion of good circulation.
Management of arterial ulcers requires several approaches. In the first place, the ulcer itself must be addressed. This can include giving antibiotics to fight infection, providing patients with analgesia, and cleaning the wound to remove dead tissue. However, treatment will not necessarily promote healing or prevent a recurrence because the underlying cause is still present. Thus, steps must also be taken to improve circulation. This can include wearing specialized garments, prescribing medications, or performing surgery, depending on the nature of the condition which lead to the development of the ulcers.