The anal sinuses are openings that are comprised of folds of tissue which separate the rectal columns. They have not traditionally been well understood, but it has been determined that the sinuses are separated from the rectum and anus as entities in their own rights. It is not believed that they are particularly significant in terms of colorectal diseases, although they can occasionally become infected if pathogens enter the rectal cavity.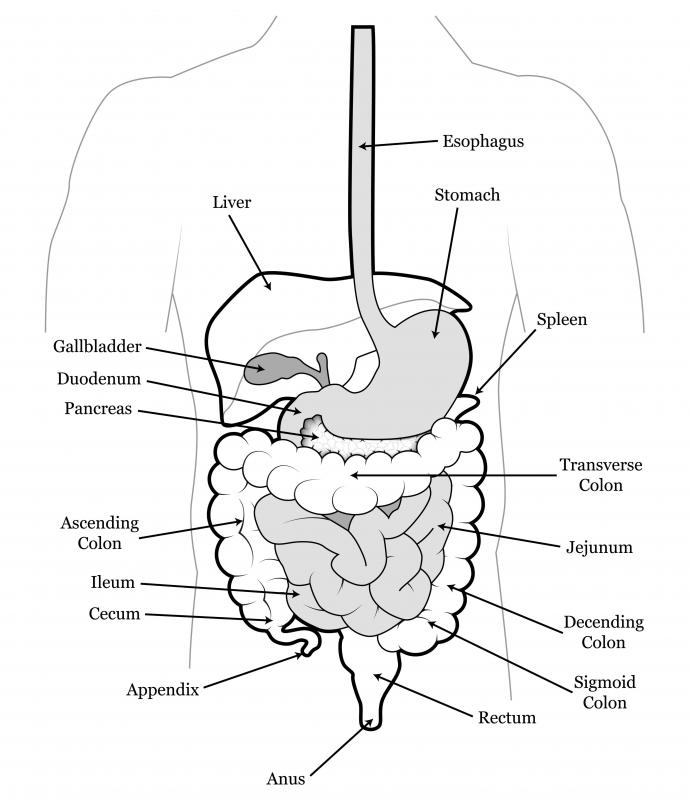 Both the anus and rectum are connected as a long canal leading from the rectal opening to the large intestine or colon. Their primary functions include pushing solid waste materials out of the body during defecation, and absorbing water from fecal matter so that it is not lost by the body as the wastes are removed. The rectum and anus have a column-like shape which is separated by the anal sinuses.
The rectum and anus are comprised of several mucus membranes which overlap each other. Spaces between these membranes are referred to as the anal sinuses. They are partially comprised of mucus membranes as well as by muscular tissues. The anal sinuses are located toward the top portion of the anal cavity.
Presence of the anal sinuses is usually of no consequence to most individuals. They are not considered more vulnerable than other areas of the colorectal cavity to cancers and other serious complications. These sinuses may become affected by colorectal cancer just like any other area of the anal cavity, but they are not generally affected in isolation since they are directly connected to the remaining area of the anus.
The anal sinuses may become infected sometimes, however, if they are blocked or clogged in some way. This may occur if pathogenic bacteria enter the rectum or if fecal matter is allowed to remain in the area for too long, thus allowing bacteria to multiply. When this occurs a large sore or abscess will typically form. Pain is a common symptom of having an anal abscess, especially when attempting to relieve the bowels or sitting down.
When an abscess located in the anal sinuses ruptures, blood or pus may exit the rectum both during bowel movements and sometimes between them. Medical treatment is recommended. Anal infections are not overly common, although they are more prevalent in those with other medical conditions or who have had anal surgery. Wiping thoroughly after bowel movements may help prevent infection, as well as defecating often enough.