Pettable Review: How I Got My Legitimate ESA Letter Online
If you have an emotional support animal (ESA) who helps to reduce the symptoms of an emotional or mental disability, you know how important it is to make sure you can keep your ESA dog or cat in your home. Fortunately, federal laws like the Fair Housing Act (FHA) require landlords to allow assistance animals (including ESAs), even in housing complexes with pet restrictions.
As I was getting ready to move to a new apartment, I knew I needed to find a place that would allow me to keep my emotional support dog with me. I went through an online service, Pettable, that helps people with qualifying mental disorders get legitimate ESA letters. Overall, I was thoroughly impressed with Pettable. The service made it easy for me to get my emotional support animal letter quickly. Now, I can look for a new place to live without worrying about having my application rejected or paying extra fees because of my ESA.
If you are thinking about getting an esa letter for your assistance animal, I'd recommend using Pettable. I had a fantastic experience getting my emotional support animal letter, and I know that I can contact their team again if I get any pushback during my housing search. My review of the company details my experience and gives you all the facts about the process and prices.
What Is Pettable?
Pettable is an online ESA letter provider. The company helps people with emotional or mental disorders connect with licensed professionals who can write legitimate ESA letters. An ESA Letter proves that a person's dog or cat is an emotional support animal.
Pettable was founded by people who are passionate about mental health and emotional support animals. They understand how ESAs can drastically improve life for people with mental and emotional disabilities. The Pettable team is dedicated to making the process of getting an emotional support animal letter as fast and simple as possible for every eligible patient.
Who Is Pettable For?
Pettable is for ESA owners who want to get official documentation for their emotional support animals. You can also use the service if you don't have an emotional support animal yet but think you would benefit from one. Pettable is available to individuals throughout the U.S.
To be eligible for an emotional support animal through Pettable, you must have a qualifying mental or emotional disability that's listed in the Diagnostic and Statistical Manual. Some qualifying mental disorders are PTSD, anxiety, depression, bipolar disorder, and panic disorder.
How Pettable Works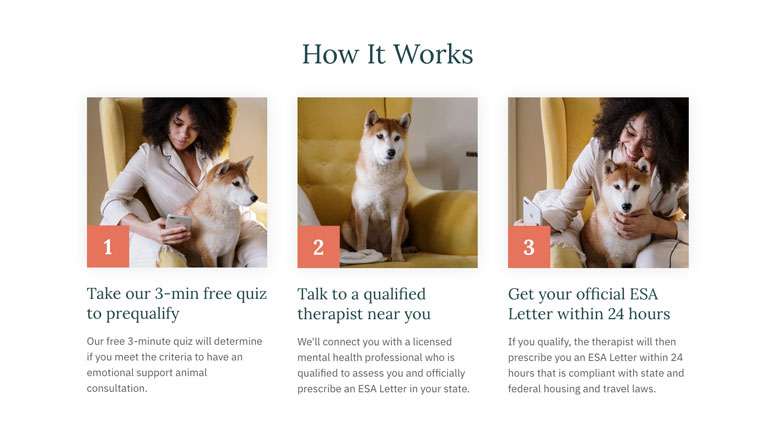 Pettable helps customers connect with licensed mental health professionals (LMHPs). The service ensures that each client works with a mental health professional in their state, which is required for a legal ESA letter. Pettable's independent health professionals are qualified to diagnose mental health conditions and write ESA letters.
The LMHP evaluates the patient to determine if they have an emotional or mental condition that meets the requirements for an emotional support animal. If so, the LMHP writes and signs a "prescription" in the form of a customized ESA letter. Pettable offers ESA letter for housing or travel purposes.
How Much Does Pettable Cost?
Pettable offers a few unique letter packages at different prices. For a single ESA letter designed for either housing or travel purposes, the cost is $149. If you want to get both letters, the package deal gives you a discount – the total cost is $199.
One of the great things about working with Pettable is that the company offers a complete money-back satisfaction guarantee. You can get the entire cost of your purchase refunded if you don't end up qualifying for an ESA letter during your evaluation or if you get your letter and it doesn't work as intended.
Is Pettable Legit?
Yes. Pettable is a legitimate provider of genuine documents that meet state and federal ESA letter requirements. They ensure that their letters are compliant with all relevant guidelines, including HIPAA.
Pettable doesn't offer documents that aren't legally viable, such as fill-in-the-blank letters or ESA registration certificates. To get an emotional support animal letter from Pettable, you must be evaluated by a licensed mental health professional to determine if you qualify for an emotional support animal.
ESA documentation from Pettable is written on official letterhead and signed by a licensed provider in your state. These are signs that an ESA document is genuine. Best of all, a Pettable ESA letter meets the requirements for protection under the Fair Housing Act, which requires landlords to make reasonable accommodations for assistance animals.
My Experience With Pettable
My miniature pincher-chihuahua mix, Andi, is one of the most important parts of my life. He is always ready to sit with me and let me pet him. His comforting presence is especially helpful on days when my anxiety and stress are high, which has been very often during COVID. I'd have a much harder time coping with my anxiety disorder if I didn't have him.
While my current apartment allows dogs, I'll be moving to a new place soon, and I need to be sure I can keep Andi with me. Most of the apartment complexes I'm looking at don't allow dogs unless they are service animals (like a guide dog or a psychiatric service dog). Even the ones that do allow animals charge high pet fees for them, which I'm not sure I can afford.
I wanted to see if I could get a valid ESA letter for Andi before signing my new lease. A letter would allow me to prove to a new landlord that Andi is an assistance animal, so he is exempt from pet restrictions and extra fees. Since I'm not currently seeing a therapist for my anxiety, I figured the easiest way to get an ESA letter was through an online service.
I chose to go through Pettable to get my signed ESA letter. The site is really easy to use, and the company promises that its letters are HIPAA and FHA compliant. Pettable also says that their customer support team will talk to any landlords or housing providers who try to deny an ESA letter. That made me feel much less worried about talking to potential landlords about keeping Andi in my new place.
Part 1: Taking the Prequalification Quiz
When I first opened the Pettable website, I was impressed by how clearly everything is explained. The home page lays out the three steps to follow to get an ESA letter and answers some of the most common questions about emotional support animals.
To get started with Pettable, the first step is to take a prequalification quiz. The site says the quiz takes about three minutes. It was easy to figure out where to click to start the quiz, and the first question gave me the option to call Pettable to speak with someone directly.
The beginning of the questionnaire explained the Pettable process for getting an ESA letter. It also covered the fact that travel laws changed recently, and so only some airlines currently accept emotional support animals. The site asked me when I would need the letter and included options from ASAP to over four weeks from now.
Next, the quiz asked a few personal questions. I had to confirm that I was over 18 and provide the state where I live, my email address, and my phone number.
Finally, the site ran through a series of questions about my mental health and emotional state during the last few weeks. There were questions about common mental illness symptoms such as feeling depressed, anxious, angry, or paranoid.
Other questions referred to sleep issues and lack of motivation. There was one question about suicidal thoughts. This page said I should seek professional help immediately if I was experiencing suicidal thoughts, which I think is a sign that Pettable truly cares about helping people.
When I finished the quiz, the site said I met the prequalification requirements for an ESA and took me to a page with payment options. I couldn't find out how much a letter costs until I completed the quiz and gave my contact details.
To continue with the process, I had to choose a letter package and pay the fee. However, the pricing page states clearly that Pettable would refund the entire cost if I didn't qualify for an ESA letter after my evaluation.
Part 2: Completing the Evaluation With a Licensed Mental Health Professional
Although I only needed a housing letter, I ended up choosing the package deal that also included a travel letter. I figured that it would be good to have a travel ESA letter just in case I get a chance to fly back home to visit my family once COVID restrictions end.
A few hours after I completed the payment, I got an email with some additional forms and waivers to sign. As soon as I returned those, I got a follow-up email with a scheduling link so I could pick a time for my phone evaluation with the therapist. Pettable made sure to clarify that I'd be speaking with a licensed medical professional in my state.
I was a little anxious about the consultation, but it went so much better than I expected. My therapist, Rhiana, was friendly and helpful, explaining every part of the process to me. I didn't feel embarrassed or worried during the evaluation. She created a safe and comfortable environment for me to talk about my anxiety and stress levels and how my symptoms affect my daily life.
We also talked about how much comfort I get from having my dog with me, especially with all the COVID-related stress of the past year. At the end of the consultation, she let me know that I was eligible for an ESA letter and told me I would get it delivered within 24 hours.
Part 3: Getting My ESA Letter
Once I finished my consultation, it was super quick and easy to get my ESA letter. I had it in my email in less than 24 hours.
I was really impressed with how official the letter looked. It was written on my therapist's letterhead and included all my personal details and a description of my diagnosis. The letter clearly recommended that I should have an emotional support dog. It included the LMHP's license number, contact information, and signature.
When I got my letter, Pettable verified that I could contact their customer support team for legal advice if I had any issues using the letter. In fact, the policy said that I could just tell the landlord to contact Pettable if they had any questions about the validity of my letter.
I'm relieved that I don't have to argue with any potential landlord about my emotional support dog – I can just tell them to contact Pettable. Plus, I feel good about the refund policy – if my landlord still won't agree to let me keep Andi as an ESA, the Pettable team will refund all the money I spent on the letter. I think this shows that Pettable is really confident their letters meet all the legal requirements for FHA consideration.
Should You Use Pettable?
Based on this Pettable review, you can see that it's an excellent choice if you need an ESA letter. With this online service, there's no waiting for an appointment to open up with a local healthcare provider. You don't have to roll the dice on whether your landlord will accept your word that your dog or cat is an ESA.
Using Pettable is fast and simple, and you can get your ESA letter in 24 hours after you've been approved. If you want the assurance of knowing that you have all the legal proof you need to keep your ESA in your home, you should use Pettable to get your official letter.
Frequently Asked Questions About Emotional Support Animals
This section covers some of the most common questions about ESAs, documentation, and access rights.
Do I need an ESA?
An ESA may be beneficial for you if a doctor has diagnosed you with an emotional or mental disorder. Animals can provide calming and therapeutic benefits for many people with mood disorders.
What animals qualify as an ESA?
Typically, we think of a cat or a dog as an emotional support animal. However, there are no restrictions on which animals can become an ESA. The animal is eligible as long as the pet you wish to register assists with alleviating your mental health symptoms. This includes birds, reptiles, fish, and other animals that aren't necessarily cute and cuddly.
Are emotional support animals required to go through training?
No. ESAs are not required to complete training, such as obedience or emotional support training. Training may be an option and can be helpful to assist with your service animal's temperament in public settings, but it is not a requirement. The purpose of your ESA is to ease your disorder or disability symptoms with its presence alone.
Can you board a plane with an ESA?
According to the Airline Carrier Access Act (ACAA), the federal government has set laws to protect passengers with an ESA. You may have to notify the airline up to 48 hours in advance of the presence of your ESA, and you might need to provide proof of documentation, such as up-to-date registration.
You may also have to disclose the following information:
A mental or emotional disorder diagnosis recognized by the Diagnostic and Statistical Manual of Mental Disorders (DSM)
The requirement or purpose of an ESA during travel at your destination
An assessment from a licensed medical health professional stating your need and their credentials.
While there are no limitations as to which animals you can have as an ESA, airlines can deny boarding to animals that are:
Too large or heavy in the cabin
Pose a threat to the health or safety of other passengers and airline crew
Prohibited from entering your destination
Inform yourself of these rules by checking with the airline provider or airport for their specific guidelines for ESAs. One important thing to keep in mind, according to the ACAA, is that airlines do not have to accept the following breeds of animals: snakes, reptiles, ferrets, rodents, sugar gliders, and spiders.
Will landlords accept an ESA?
Yes! The Fair Housing Act recognizes ESAs and requires landlords to make reasonable accommodations for persons with disabilities. The act prohibits discrimination against renters and buyers with disabilities and protects their rights.
Landlords or sellers cannot restrict the breed or weight of your emotional support animal. They must abide by the same guidelines as service animals. Emotional Support Animals are not just pets under the Fair Housing Act and do not fall under the same policies that a pet would.
Keep in mind that housing providers cannot impose fees or pet rent on your ESA. However, if your ESA causes any damages to the property, it is the tenant's responsibility to cover the cost/ fee for the repairs.
If a housing provider denies your request for accommodations, the Department of Housing and Urban Developments (HUD) requires them to explain. They must provide you with proof of financial/administrative burden, considerable alteration to their operation, health or safety risk, and/or proof of physical damage to the property.
It can benefit you to familiarize yourself with the Fair Housing Act and HUD regarding your ESA. Doing this will help you combat any discriminatory situation you face when applying for housing.
Can businesses refuse my ESA?
No. Unless it is a private business; they must allow you and your ESA entry. Having clear identification on your animals can make access for your ESA easier, such as an ID card or a service patch. It is not necessary to have these items on you, but they may make your life easier.
Keep in mind that there are circumstances where businesses have the right to ask you to leave, such as disruptive or threatening behavior. You are responsible for the training and manners of your Emotional Support Animal while in public. If their temperament is not the best out in public, training or another solution might be necessary.
Are emotional support animals required to wear a vest?
No! The law does not require ESAs to wear a vest. Wearing a vest may help notify others of your animal's role. It is up to your discretion if they should wear one. The most common colors you will find are blue or red with an identifying marker or patch that says your animal is an ESA.
What is an emotional support animal?
An emotional support animal is a type of assistance animal. ESAs don't have special training to perform tasks (like service dogs do), but they provide a comforting presence to their owners.
For many people with mental or emotional disabilities, their emotional support animal helps them cope with daily symptoms and challenges. Numerous mental illnesses can qualify for an ESA, including depression, panic disorder, PTSD, social anxiety, and ADHD.
What is an ESA letter?
An emotional support animal letter is a legal document that is similar to a prescription. It describes a medical professional's official recommendation for a patient to have an emotional support animal to help mitigate symptoms of an emotional or mental disability.
Like a prescription, a legitimate ESA letter must meet certain requirements. It has to be drafted and signed by a doctor, therapist, or mental health professional and include their license information. You can only get an ESA letter after an LMHP evaluates you to determine whether an emotional support animal would help your condition.
What is an ESA certification?
Certification is a service that some ESA Letter providers try to sell as an additional way to verify your assistance animal's legitimacy. However, there is no real certification or registration process for emotional support animals. A letter from a licensed therapist or LMHP is all you need to prove that your animal is an ESA. Paying for certification is a waste of money.
How long is an ESA letter good for?
There are ESA letters for different applications: housing and travel. Housing letters give you and your assistance animal the right to reasonable accommodation under the federal Fair Housing Act. Once you have shown your landlord your ESA housing letter, you're legally protected under the FHA for the entire term of your rental or ownership.
Travel letters show that you qualify for ESA programs that some airlines and hotels have. An ESA letter for travel is only valid for a year – you'll need to renew it annually.
Can cats be emotional support animals?
Yes. While the Americans with Disabilities Act (ADA) recognizes only dogs as service animals, there is no such restriction for assistance animals, including ESAs.
Many people find cats to be exceptional emotional support animals. Cats are cuddly and easy to care for, and their small size makes them good travel companions. If you prefer having an emotional support cat to an ESA dog, you can.
Can emotional support animals go anywhere?
Emotional support dogs and cats have access rights to some places. Under federal law, your ESA may live with you in your home – an assistance animal isn't subject to pet restrictions. Your ESA can also ride in the airplane cabin with you if your air carrier allows it.
The law prohibits schools and employers from discriminating against students and employees who have disabilities, so you can bring your ESA to class and work. However, private businesses, hotels, and restaurants are legally allowed to deny access to emotional support animals.
Get Your ESA Letter Fast With Pettable
As you can see in this Pettable review, I had a fantastic experience from beginning to end. The company makes the entire process of getting an ESA letter easy to understand and stress-free. Having my letter has helped reduce my anxiety about talking to my new landlord about my ESA dog.
I know that if the apartment management team pushes back on my letter, I can call Pettable directly and let their customer service team handle the discussion. I'd highly recommend Pettable to anyone who wants to get legitimate documentation for an emotional support animal.