How do I Use Bleach for Toenail Fungus?
The use of bleach for toenail fungus is a remedy that is supposed to rid the toe of the infection. It is a common treatment among those looking for a home remedy for the problem. A bleach solution treatment can be time-consuming and monotonous, but is useful if done in the most effective way to allow the bleach to penetrate and kill the infection. To use bleach to treat toenail fungus, be sure to trim and file the nail before beginning treatment, prepare the bleach solution properly and treat the affected nail for the proper length of time each day.
Toenail fungus, less often referred to as onychomycosis, is a condition that affects the nail bed of one or more of the toes. It occurs when the skin on the toes and around the nail bed are infected with fungi, most often dermatophytes; or yeast, such as Candida. Typically, when the toenail is infected, a small white spot first appears under the nail and eventually spreads to the entire nail bed. The fungus generally causes the nail to turn a dull yellowish shade and to thicken. Eventually, the infected nail becomes rough and can crumble and break off, leaving an unpleasant appearance.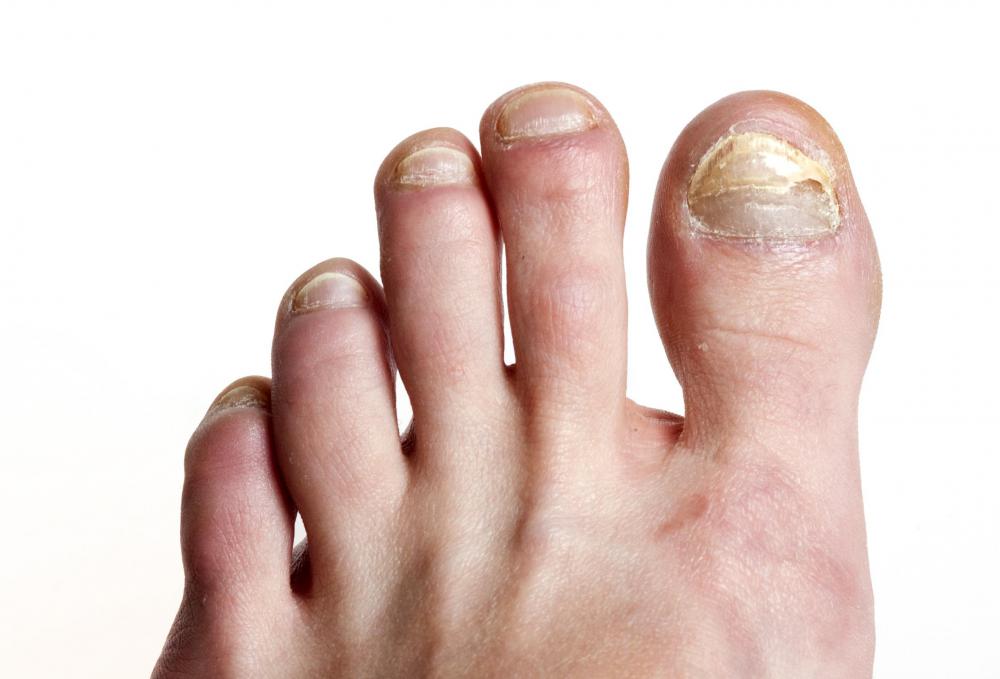 Bleach for toenail fungus is intended to kill the infection. Before using the bleach solution, clip short the infected nail and file down the nail plate. Trimming and filing the nail makes it more porous and allows for the bleach solution to effectively penetrate the nail bed to reach the fungus. After clipping the nail and making it pliable, the bleach solution can be used.
It is important to first dilute the solution that will be used for soaking, because bleach can be damaging when in direct contact with skin. Combining one spoonful of bleach and 1 gallon (3.8 liters) of warm water make for an effective solution. After the solution has been properly mixed, it can be used to soak the foot with the infected toenail. You can soak the infected nail for 20-30 minutes once a day or for 15-20 minutes in the morning and at night for a twice-daily treatment.
Ultimately, getting rid of the fungus can take several weeks to a few months, depending on the severity of the infection. Still, it is important to be diligent in using the bleach solution every day. Stopping treatment or irregular use of bleach for toenail fungus can allow for the infection to come back even stronger.
Though bleach for toenail fungus can be useful, it is possible to reduce the risk for a fungal infection altogether. Toenail fungus thrives in warm and moist environments and finds it easy to live on toenails because they can become damp and warm from wearing shoes. Keeping toes dry by wearing socks or regularly drying them off when they become too damp are methods that can be used to ward off fungus.