How Do I Set up a Corn Snake Terrarium?
A corn snake terrarium should be large enough for the snake to move around freely and have a locking cover. It is necessary to provide ground cover, heat and lighting. Corn snakes also need a plant branch on which to climb and at least one safe place to hide.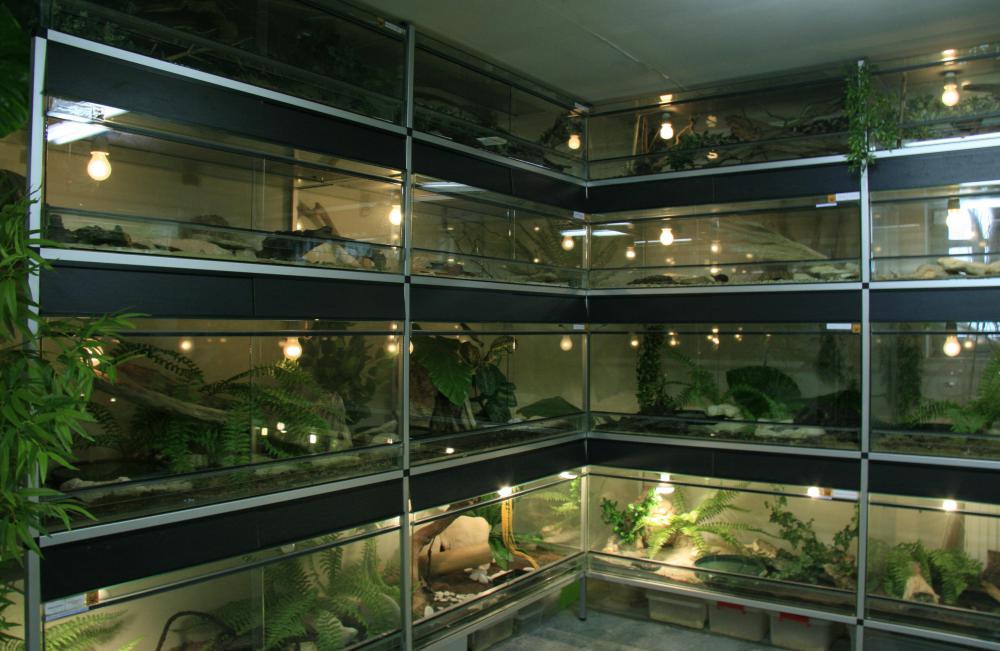 This species of snake is found across most of North America and is easily kept in the proper environment. A corn snake terrarium can be set up using an appropriately sized fish tank. There should be enough room in the tank for the snake to move around freely.
Pesticide-free commercial ground cover, or substrate, products are available and can be a natural-looking addition to the environment. Bedding products sold for other animals may contain cedar shavings, pine shavings or corncobs that are harmful to snakes. Other ideas for substrate include unbleached paper towels, mulch and dirt.
A snake is cold-blooded, which means it regulates its body temperature by moving to and away from sources of heat. A corn snake terrarium should have a basking area that is kept around 83 degrees Fahrenheit (28.3 degrees Celsius). A range of temperatures from about 62 degrees Fahrenheit (16.6 degrees Celsius) to 75 degrees Fahrenheit (23.8 degrees Celsius) is optimal for the other areas in the corn snake terrarium.
Temperature control is accomplished through the use of lights and heaters. Ultraviolet (UV) lighting, though beneficial for corn snakes, is not essential, and an incandescent light fixture is sufficient for heating. The basking area is best kept heated via heater pads that attach to the bottom of the terrarium.
Live plants are not recommended for a corn snake terrarium, because the plants may harbor mites or other parasites. Using plastic plants can help make the environment look natural. Corn snakes are climbers in the wild and a sterilized plant branch or small tree branch is an important part of a corn snake terrarium.
As with many other snakes, the corn snake needs a hiding place to feel less threatened. The best hiding places will be large enough for the snake to curl its entire body within and can be as simple as a cardboard box or a plant pot. Commercial products intended for this use also are available in pet stores.
A good water bowl will be flat and large enough to allow the snake to coil its entire body within. Snakes frequently take baths, especially when they are molting. It is recommended that the water be changed regularly, because snakes often eliminate waste while bathing.