How Do I Deal with Hair Thinning at the Crown?
There are various ways to deal with hair thinning at the crown. It's helpful to determine the primary cause of thinning hair. If you notice your hair is thinning not only at the crown but in general, the cause could be a thyroid issue or even a vitamin deficiency. In these cases, a physician or nutritionist may provide an effective solution. If your hair thinning at the crown is due to genetics, you could try a root-lifting hair care product, or try a new hairstyle. It's best to consult with a professional hairstylist for options.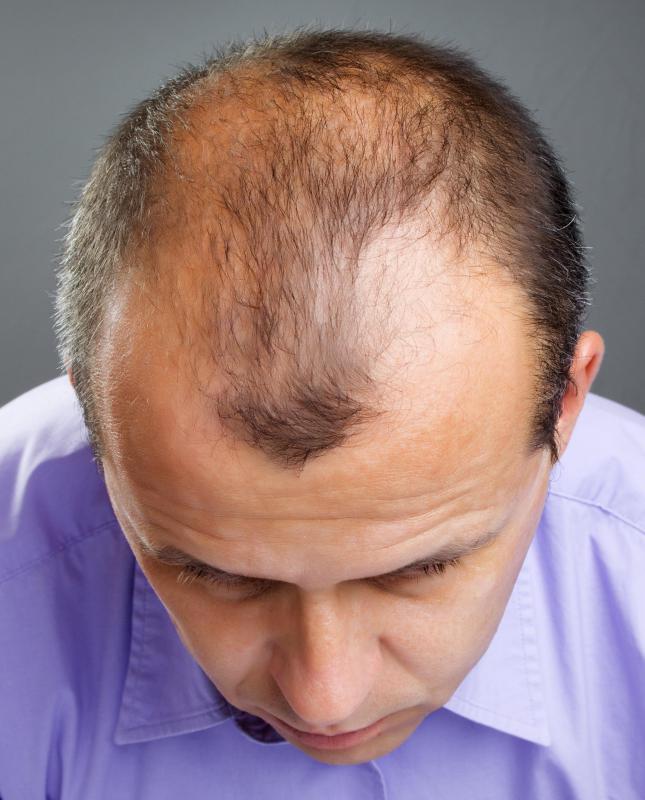 Effective treatments are available for those who experience hair thinning at the crown. You might try an over-the-counter or prescription product that is designed to regrow hair thinning at the crown. Topical solutions are generally recommended for hair loss or thinning hair due to hereditary factors. If you have any allergy concerns or sensitivity issues, it's best to check with your health care provider before beginning this type of treatment. If you decide to use a topical hair loss treatment, be certain the product has been approved by the Food and Drug Administration (FDA) or other reputable organization.
Alternately, you may try a few styling tips for diminishing the effect of hair thinning at the crown. It's a good idea to trim your hair in back, so it does not pull down the hair at the scalp and crown. Use a wide tooth comb for styling, as this tool is helpful to lift hair at the crown and make it appear fuller.
Hair weaving is another option to consider. This procedure involves weaving synthetic hair onto your thinning hair at the crown to achieve a natural and fuller appearance. A professional hair designer can accomplish this for you, although it could be a very costly procedure. Risks may be a possibility as well, so it's best to consult with a professional and weigh the pros and cons before considering this option.
Men who begin to notice their hair thinning at the crown may choose to wear a hairpiece or toupee. It is important to choose a quality hairpiece that is a good match for your skin tone and existing hair color. The texture and style of the wig is also important, as poor quality will look artificial.
You should also consider changing your shampoo. Use a shampoo that is fortified with biotin, as this will help strengthen hair and keep your hair in optimal condition. If you must use a conditioner, use sparingly and only on the ends. Avoid heavy rinses and conditioners on the scalp and crown, as this often weighs hair down, making it look flat. Instead, use a root-lifting application after shampooing to add volume at the roots.