How Do I Control Fly-Away Hair?
The first step to controlling fly-away hair would be to have a professional hair cut every four to six weeks. Using a quality shampoo and hair conditioner formulated for fly-away hair is also important. If you have fly-away hair, it's probably dry as well. Dry hair types need moisturizing conditioners and smoothing serums to manage frizzy strands. Don't use heavy formulas that weigh your hair down, as these may cause build-up that can make your hair look greasy.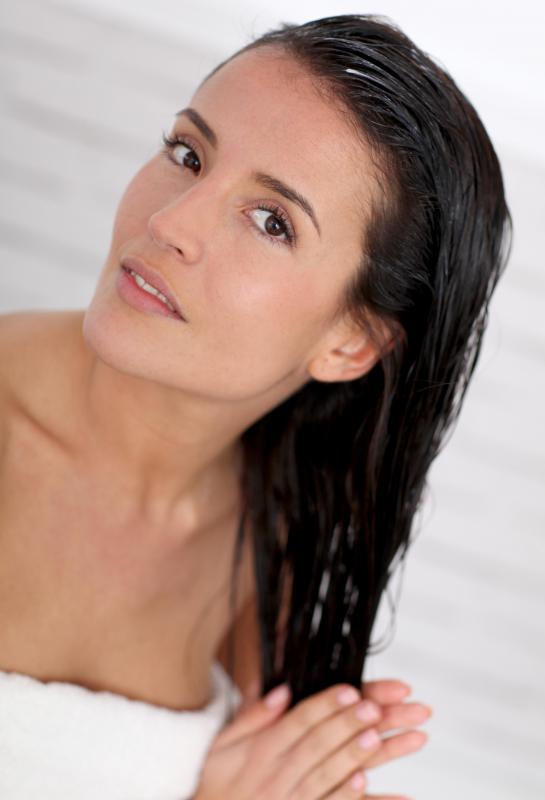 If you use hairspray to control your fly-away hair, choose one with extra hold. Some hairsprays are formulated to add shine to dull or dry hair, and work well on thick or unruly hair as well. When choosing a hairspray, look for a light formula and do not over-apply. Using too much hairspray will make your hair feel sticky and could make fly-away strands even more unmanageable.
Models and hair-care experts suggest using an anti-static laundry sheet on hair to eliminate static. Just take the sheet and gently run it across the fly-away strands. These sheets may help tame frizzies by reducing friction on the surface of your hair. Experts recommend warming the sheet in the dryer for about five minutes before you run it over your hair. Use the dryer sheet before getting dressed, so when you pull a sweater or other clothing over your head, your hair won't fly away.
Using a leave-in conditioner often helps tame frizzy hair, but use these products sparingly if your hair is thin and fine. Too much conditioner will make thin hair look limp and lifeless. Stick with leave-in conditioners that come in a spray bottle. A light misting should be enough to control your frizzy ends. You might find sample-sized bottles at your local hair salon.
Many hair stylists and beauty consultants will tell you not to use cheap hair-care products on any hair type. This rule particularly applies to those with frizzy and fly-away hair. Bargain hair-care products are often made with chemicals that can leave residue on the hair.
If you use hairsprays and other products for fly-away hair on a regular basis, using a clarifying shampoo at least once a month is recommended. A clarifying shampoo will help remove the chemicals that build up on your hair. Choose a good quality clarifying product that is salon-tested. Ask a hair-care professional which clarifying shampoo is safe for color-treated hair.