How do I Choose the Best Wedding Scrapbook Ideas?
Making a wedding scrapbook is a great way to ensure that the memories of an important event are never forgotten. Rather than simply incorporating photos, like a photograph album, a wedding scrapbook can also record small details of the events leading up to and following the wedding, as well as incorporate artistic tidbits that help recreate the romantic and exciting atmosphere of the event. Choosing the best wedding scrapbook ideas will depend on several factors, including the personality of the couple, the availability of memorabilia, and the level of scrap-booking skill.
One of the best wedding scrapbook ideas is simple: start early. If creating a wedding scrapbook is important to a bride or groom, it is essential to start collecting items for the book as soon as the engagement is announced. Building a wedding scrapbook as the process is occurring is a lot easier than recreating the course of events months or years after they have occurred. Start squirreling away items such as engagement photos, tickets from wedding showcases, pictures from dress fittings and tastings, fabric samples, and even the honeymoon itinerary to create a comprehensive picture of the months leading up to the big event.
Look online for a wide variety of information about scrapbooking in general and, in particular, wedding scrapbook ideas. Many experience scrapbookers run websites devoted to styles, tips, and layout questions. The Internet can also be a great resource for important purchases, such as the scrapbook itself and an extensive variety of scrapbooking materials. Wedding scrapbook ideas can be extensive and slightly overwhelming; be sure to choose a layout and plan that fits in with the couple's style and makes the creation of the book fun, not a chore.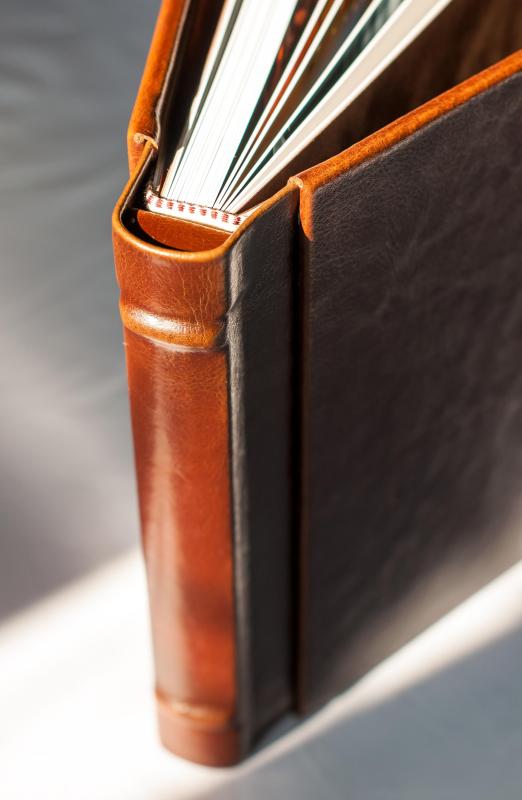 A relationship doesn't start with a wedding; some great wedding scrapbook ideas include ways to incorporate the couple's early relationship and even life prior to meeting one another. Ask parents and friends for photographs from childhood, and give the bride and groom a page each to remember their childhood and youth. Then, consider creating a page about the couple's early days together, using any mementos, such as pictures, cards, or memorabilia from dates to help give the book some context.
For the actual wedding, be sure to hire a reliable and well-reviewed photographer to ensure that wedding pictures are beautiful and personal. Talk with the photographer beforehand to be sure that he or she knows the most important moments of the ceremony and reception to capture. Consider asking the photographer to highlight key moments, such as the father giving the bride away, cake-cutting, the first dance, and the toasts. Be sure to save wedding memorabilia, such as petals from the bouquet, the menu, lyrics to the first dance music, or even the garter. These small details can help a couple remember the day of their wedding with perfect clarity, even decades later.