How Do I Choose the Best Sound-Absorbing Materials?
When attempting to choose the best sound-absorbing materials, you will need to choose the materials according to the type of sound absorption that is required. There are many choices of materials, with each product serving a particular purpose, including sprayed-on insulation and acoustic blocking sheets that are placed in plain view. The type of sound-absorbing materials you will need are different, in most cases, for keeping noise inside of a room or out of a room or area. The fist step is to determine the type of sound that you want to control, and then you can choose from a selection of materials that will best meet your needs.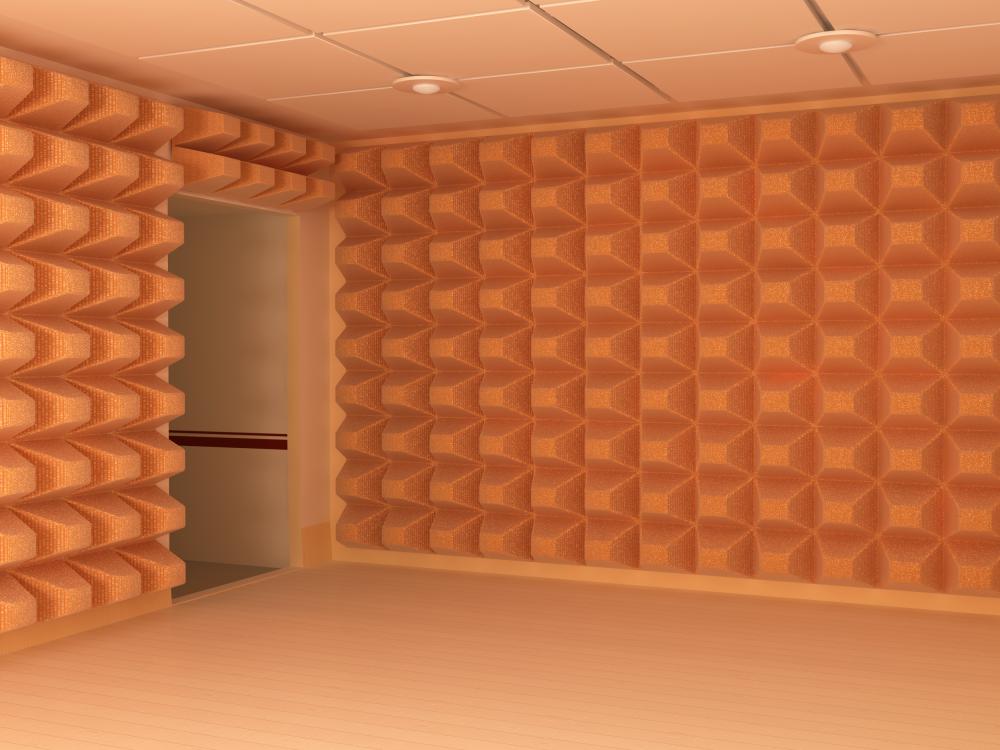 One of the most common types of sound-absorbing materials is a sprayed-on type of foam and fiber blend. Expanding foam mixed with cotton and synthetic fibers is commonly used to prevent the transfer of sound from furnace rooms and mechanical areas into office or residential areas. If you are attempting to deaden the noise entering a home from a garage, this option may also offer a beneficial and safe side effect: this type of sound-absorbing material is often fire-resistant. This material is also one of the best options for covering cement or block walls, as it is very good at adhering to hard surfaces without peeling off.
The level of sound-dampening is easily increased by common building materials, provided they are installed in unconventional ways. Special clips, such as those used to hang gypsum drywall board, can transform these common building materials into more than adequate sound-absorbing materials. If you wish to lessen the noise emitted by a laundry room, this may be your best choice. If you are, however, attempting to soundproof a music room or home movie theater room, your best choice may often be a thick, foam-padded wallboard that is covered with geometrical shapes designed to reflect and absorb sound.
If your intention is to insulate your home against the road sounds from a busy street, sound-absorbing materials in the form of sound-deadening curtains and drapes may prove to be your best choice. Special rubber-like mats are available as sound-absorbing materials to quiet noise transmitted between floors. You also might want to install this matting underneath the upstairs carpeting in your home. Other sound-absorbing materials, such as special windows, foam-filled cement blocks and simple fiberglass insulation may be the best choice for your particular application.