How Do I Choose the Best Pastry Cream?
Choosing the best pastry cream depends upon what the pastry cream is being used for, sweetness preference, and whether the pastries will be refrigerated. Some people do not like exceptionally sweet pastry cream, and when this is the case, ingredients such as ricotta cheese and powdered, or confectioner's, sugar can be used. This is usually the pastry cream of choice in pastries such as cannoli, which is a shelled dessert filled with pastry cream and chocolate chip morsels.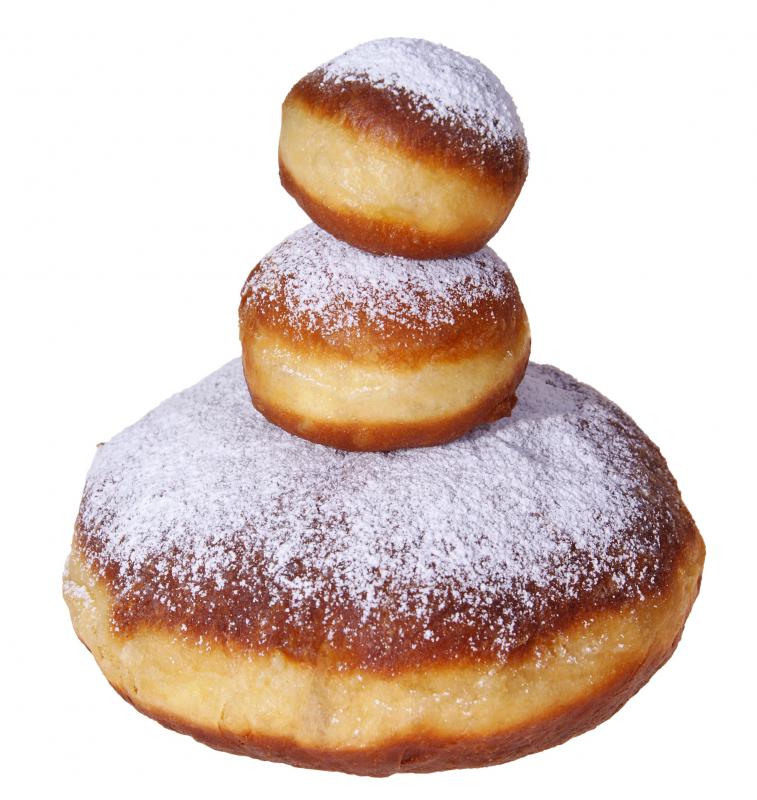 Butter cream is a pastry cream commonly used for sheet cakes and cupcakes. Butter cream can also be used to fill cream puffs and eclairs, and is often the cream of choice when cream-stuffed pastry will be enjoyed outdoors for picnics. Typically, butter cream holds up well outdoors, and refrigeration is not as crucial as it is when using creams such as custard. Cupcakes with butter cream frosting are often sold at groceries stores in the unrefrigerated section of the bakery department.
Working with pastry creams can be a challenge, but using a pastry bag can make it very simple. When using a pastry bag for cream-stuffed pastry, the cream is gently spooned into the bag and squeezed through the tip of the bag. In addition, some pastry bags come with removable decorative tips. The pastry bag tips are typically either scalloped or have smooth edges. Pastry bags can make stuffing shelled pastries easier and are also used in cake decorating to create rosettes and decorative cake borders.
Custard pastry cream is made with eggs, which, if not kept refrigerated, will quickly spoil. Custard filling, however, is typically used in eclairs and cream puffs. Eclairs are pastries made from puff pastry filled with custard and frosted with melted chocolate. Cream puffs are another type of cream-filled puff pastry. They are typically topped with powdered sugar, although melted chocolate is also sometimes used. Custard is usually made with either vanilla flavoring or chocolate flavoring.
Pastry cream generally takes on the flavor of other additives quite well. For example, adding only a small amount of vanilla extract to custard filling will result in an intense vanilla flavor. In addition, adding flavors such as lemon extract will give the custard a tangy, intense lemon flavor. Many people prefer lemon cream puffs made with either fresh lemon juice, lemon oil, or lemon extract. Sometimes, a small amount of lemon rind is added.