How do I Choose the Best Neti Pot Solution?
A neti pot is a small teapot or pouring device that some people use for sinus rinsing. Rinsing the sinuses is a great idea if people are suffering significant congestion due to a cold and are prone to sinus infections. Those with allergies may benefit from using neti pot solution in the nose too. There is some argument on which solution is most beneficial.
Many neti pots sold in the pharmacy come with or can be purchased with packages of special mix that is poured into warm water, and thus becomes the neti pot solution. There are a few provisos on using water and these apply no matter what is added to it. The water should be either bottled or tap that has been boiled and then cooled to a warm stake prior to using. Water shouldn't contain irritants like chlorine, and it shouldn't be mineral water or any kind of flavored water. When using bottled water, use purified or distilled types. These are the easiest choices, and once this water is opened, it should be refrigerated.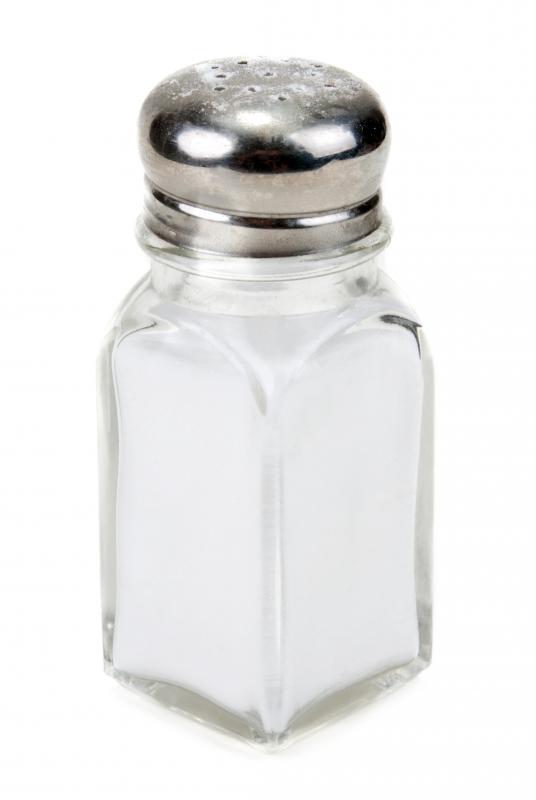 Neti pot solution that is sold in stores can get pricey although it is simply a mix of sodium chloride (table salt) and bicarbonate of soda (baking soda). Most solution mixes will boast of their pureness and lab grade materials. This is fine, and it an absolutely viable option to buy neti pot solution at a nearby pharmacy. However, many doctors feel it is equally viable to make a solution at home from these ingredients (especially when attention to using the right water is paid), and that it will be as effective as any manufactured brand.
The basic recipe for a homemade neti pot solution is to combine eight ounces (.24 liters) of warm water with half a teaspoon of salt and half a teaspoon of baking soda. Some people recommend a smaller amount of salt and no baking soda. Reports on this recipe are mixed. Adding soda can help make the rinse more comfortable, and many people find their nose will sting if they don't use it. Others don't care, but it's really up to the individual to decide what is comfortable. The amount used shouldn't exceed a half teaspoon for eight ounces of the neti pot solution.
Homemade solutions are certainly less expensive, which may encourage people to rinse more often, but as mentioned, most doctors also approve of the store bought mixes. Adding other ingredients to the neti pot is something advised by some. Yet doctors tend to the feel the simplest solutions are likely to be the best and can effectively relieve symptoms for many.