How Do I Choose the Best Moisture Wicking Clothing?
Moisture wicking clothing has become a common sight at almost all athletic events, gyms, and outdoor activities, and for good reason. This type of clothing keeps moisture away from the body, keeping the user dry, comfortable, and safe from chafing or other discomfort. When choosing this clothing, it is important to consider the type of activity in which one is participating. This will largely determine which types of clothing are vital and which types can take a backseat.
For outdoor activities in which weather conditions must be taken into account, a full outfit of moisture wicking clothing may be necessary. In snowy conditions, a waterproof but breathable jacket will keep the user both warm and dry from the elements because sweat and moisture will not be trapped against the skin. GORE-TEX® moisture wicking clothing is a common choice for such applications; GORE-TEX® is a teflon-based material that wicks moisture away from the body and allows it to escape through the fabric while still keeping the elements from passing through the material toward the body. Similar materials are used for breathable pants, socks, hats, gloves, and more.
Working out at the gym might call for a different set of moisture wicking clothing. A simple shirt, sports bra, and shorts combination might do the trick. In such a setting, keeping moisture away from the body is far more important than keeping outside moisture away, and many gyms can be hot and stuffy. Therefore, something lightweight would be a good choice. Silk-weight clothing, or clothing made from very lightweight wicking materials, that keep moisture away from the skin will prevent discomfort from chafing, sweating, rubbing, or other issues while still allowing the user to keep cool.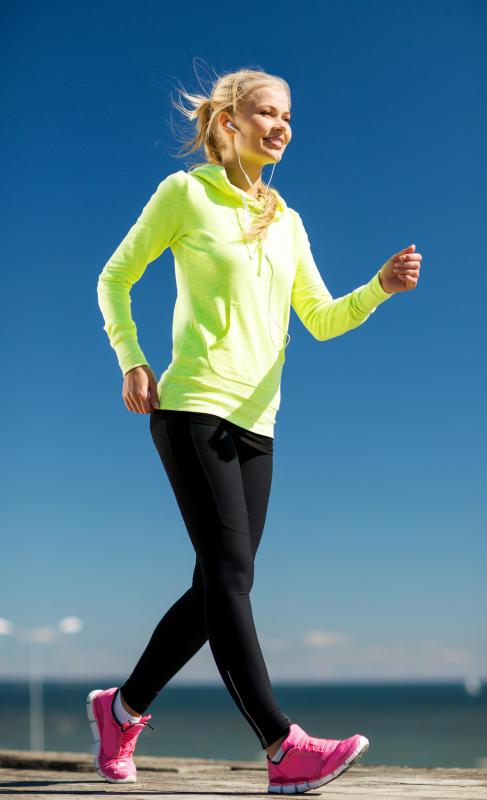 One of the most important pieces of moisture wicking clothing to consider is moisture wicking socks. Because the feet sweat when engaged in physical activity, and since shoes may or may not be effectively breathable, moisture can build up on the skin. Such build-up can cause blisters, hot spots, and other irritations that can affect how the foot moves, which can, in turn, cause other injuries. Moisture wicking socks can help keep moisture away from the skin, preventing blisters and other discomfort. When choosing a moisture wicking sock, one should make certain to choose one that fits close to the skin so the sock does not bunch up. Some socks come with neoprene fibers that help the sock cling close to the skin, preventing movement that could otherwise cause irritation.