How Do I Choose the Best Elbow Orthosis?
If you have injured your elbow or need support for a weak elbow joint due to surgery or other pathological condition, an elbow orthosis can help. An orthosis, similar to a brace, keeps your elbow supported and protected. Choosing the best elbow orthosis requires first choosing the right type for your injury, or other issue, as it can vary depending on how much support your elbow needs and how much flexibility it should have while wearing the device. Other considerations include how well the elbow orthosis fits and how easily it can be cleaned.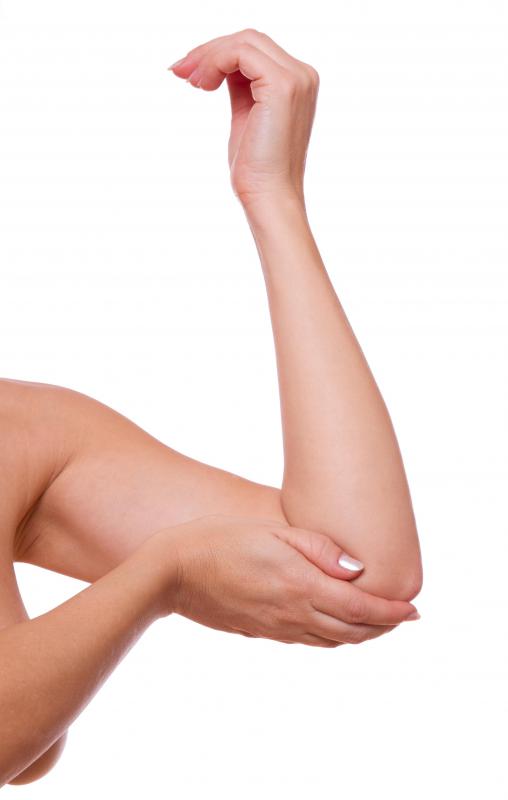 For minor injuries or surgeries, an elbow orthosis that is more like a cloth or nylon brace will usually suffice, although in many cases the fabric will have something built in to offer support, such as a piece of aluminum or plastic. These types of orthosis allow for more flexibility, which is helpful in the latter stages of the healing process or if you need the orthosis for support due to a chronic issue. One thing to consider with these types of orthosis, or any brace or orthosis that is made of cloth or similar material, is determining whether it has anti-bacterial properties. Many do, which can be helpful to avoid fungus or build-up of bacteria.
Recovery from a serious elbow injury or surgery often requires that you keep your elbow locked in place or keep movement to a minimum. In these cases, an elbow orthosis made of harder plastic or metal is desirable. Many of these types of orthosis have a built-in goniometer, which allows you to set the angle of the orthosis, either to keep in locked in position or limit movement of your elbow to a specific angle.
Regardless of the type of elbow orthosis you choose, it should fit snugly on your forearm and upper arm, offering support without cutting off your circulation. Most are adjustable, although only within a certain range, so it's important to choose the correct size for your arm. If the orthosis has padding, it should allow for easy removal, so you can wash the padding with ease; padding that absorbs moisture is also helpful.
Want to automatically save time and money month? Take a 2-minute quiz to find out how you can start saving up to $257/month.
Typically, it is usually best to consult with your doctor or physical therapist regarding the best type of orthosis for your needs, particularly after a serious injury or surgery. If you are not happy with the type or brand of elbow orthosis recommended, many medical supply stores, both online and off, carry them. You can easily purchase one on your own, but you should generally check with your therapist or doctor first.