How do I Choose the Best Breastfeeding Pump?
The breastfeeding pumps on the market vary quite a bit, which is why choosing the best one for your situation typically requires some thought. One of the most important factors to consider is how often you will use the breast pump, which likely depends on how much you will be away from your baby. For instance, a double electric pump typically works best for most working mothers who are out of the house several days each week. A single electric pump is often considered equally powerful, but takes more time since it only attaches to one breast at a time. Finally, the manual pump is often considered ideal for those who either pump only occasionally, or want to use it while on-the-go.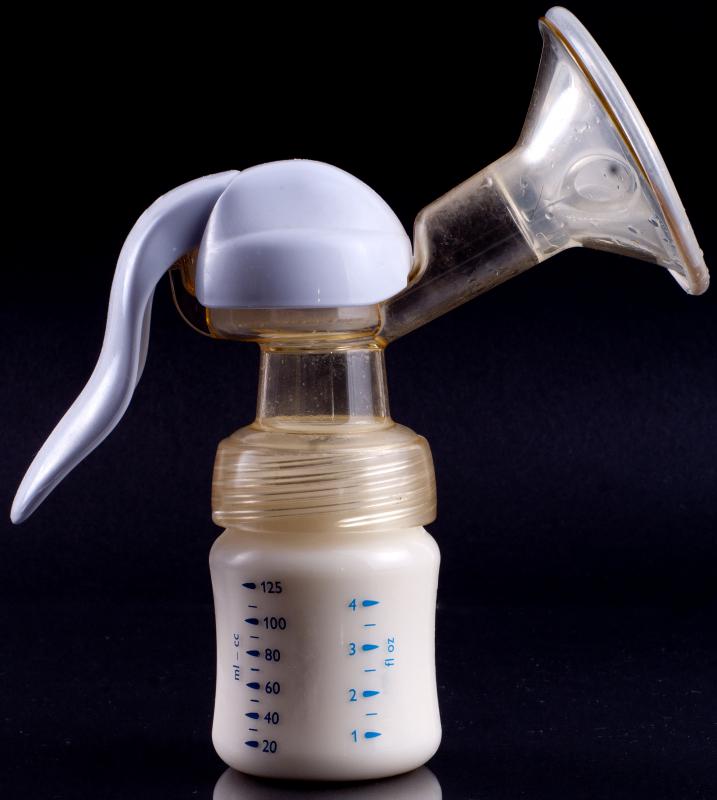 If you have to be away from your baby several days each week, such as for a full-time job, you can expect to be pumping many times per day. Thus, you will need a breastfeeding pump that is both efficient at removing milk, and also fast, as you will likely be pumping during breaks from work. A double electric pump typically fits this description, as it has suction cups that attach to both breasts so that you can empty the milk from both at the same time. This type of pump is usually known for most closely imitating the suction of the baby's mouth, which is why it is typically considered the best on the market for frequent pumping. Of course, it is also the most expensive, and the least portable, so be sure that you need a pump this powerful before you buy.
You can save some money by purchasing a single electric breastfeeding pump instead. This typically works similarly to the double electric device, but has only one suction cup so that you have to pump each breast separately. This is often just as powerful and a little cheaper than electric pumps, but it takes about twice as long to pump with the single breastfeeding pump. If you have long breaks at work, or do not anticipate having to pump often, this type of breast pump may work quite well for you.
In fact, if you do not need to pump much at all, a manual pump might be best, as this is usually the cheapest and most portable option. As opposed to an electric breastfeeding pump, a manual device does not need batteries or an electrical outlet since it requires that you pump the handle with your hand. This may sound tiring, but most quality manual pumps include a soft grip on the handle so that it is more comfortable than you might assume. Additionally, most people who are attracted to this type of breastfeeding pump do not need to use it often, as it is not typically as efficient as an electric kind. If you do not need to pump more than about once per day, or if you need an "back up" pump that you can use in the car, this type of breastfeeding pump may fit your needs.