How Do I Choose a Fine Cognac?
Cognac is a brandy distilled in the Cognac region of France. There is a rating scale to help choose a fine cognac, which is based on the age, blend and, sometimes, the age of the wood of the casks in which it is stored. The highest grade of fine cognac is Extra Old, or XO.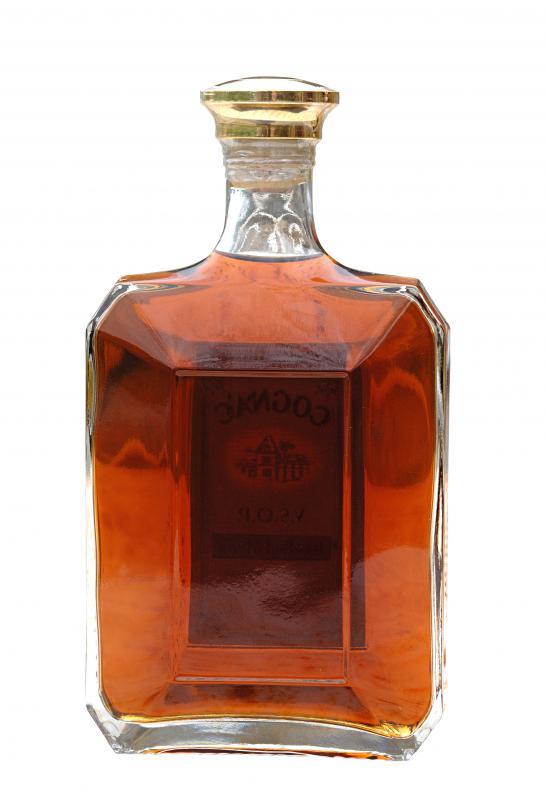 Brandy is wine that has been distilled, removing water and increasing the alcohol content, and then aged in oak casks. It is believed that the distilling process of wines began as an attempt to reduce its volume to avoid taxes. Merchants soon learned the distilled wine product was more potent and sometimes more popular than the wine itself.
While brandy is most often distilled grape wine, other fruits can be used to make the product. Peaches, apples, plums and berries are popular fruits used to make brandies. In the United States, an apple brandy called applejack and made from fermented cider is popular.
Cognac, however, is always grape brandy. There are very high standards that must be met for a brandy to be referred to as cognac. The grapes must be from the Cognac region of France and the resulting wine must be distilled twice in copper stills. The brandy must then be aged in French casks for no less than two years.
The rating scale designed to help choose a fine cognac refers to the length of time the brandy has been aged. Very Special (VS) is the youngest cognac and has been aged for at least two years. Very Special Old Pale (VSOP) means the brandy has been aged no less than four years. The XO designation is reserved for fine cognac that has been aged a minimum of six years, though the average age is much older. While the age ratings are meant as a general guideline for quality, cognac aficionados say a fine cognac can be found with a VS rating while some lesser cognac may carry an XO rating.
Another factor to consider when choosing a fine cognac is price. Cognac prices vary wildly and bottles up to 200 years old can be purchased for exorbitant sums. A cognac that is from 40 to 50 years old is considered to be the perfect age, though the price of these bottles generally prohibits the average drinker from partaking of them very often. In 2011, a bottle of VS cognac can sell for as little as $10 US Dollars (USD), though a fine cognac may sell for $60 USD, if not considerably more.