How do I Best Use Living Room Space?
The best way to use your living room area design-wise, no matter the size, should begin with the focal point, which may be a fireplace, television or both. You can then adjust the seating so it is facing toward the focal point. Angling your furniture, rather than placing it right up against the walls, can make the living room space visually appealing.
Another good tip to use to make the most of the space when choosing furniture for a living room is to keep scale in mind. In general, the tinier the room, the smaller the furniture should be. Large-scale furniture usually tends to make a small living room space look even smaller. On the other hand, small sofas and chairs in a large living space can look lost and lack impact.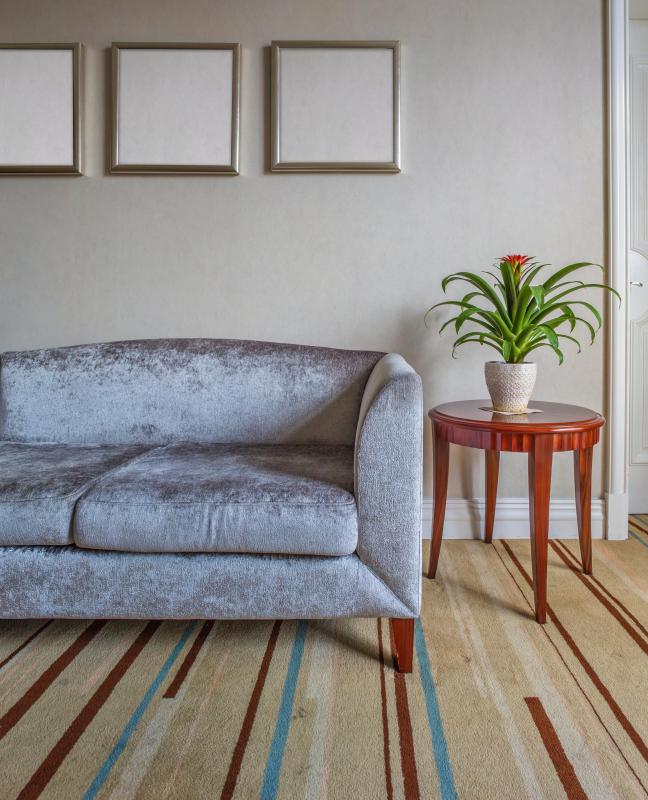 Working with, rather than against, the windows in a living room is important. Think about television placement and glare from natural light entering the room. Mirrors can make living room space seem much larger, but make sure the reflecting view improves the overall look. Placing a mirror opposite an attractive window can visually double the room's appearance by making it appear to have an extra window.
Allowing for walking traffic flow in a living room is important. The furniture should be spaced comfortably apart so as to look appealing while not making walking pathways look too obvious. If space allows, consider creating a separate area away from your main sofa and seating arrangement. It's crucial to still keep the same scale, style and colors, but you might add a desk space or a small table with two chairs.
When planning how to best use your living room space, think about how many people you'll need to seat regularly. A foot stool, or ottoman, is versatile as it can work as seating or an extra serving table if a tray is used on top. Make sure that coffee tables are placed so that people aren't bumping into the corners when they're walking in your living room. Glass topped coffee and end tables can make a living room look airy and spacious, yet they aren't the best safety choice for small children who may climb on them.
A good way to discover the ideal furniture placement to make the most of your living room is to first consider each piece separately by thinking of all the options where it could go in the space. This approach can then let you narrow down the best possible place for each seating, table or storage piece in your living room space. It's a good idea to start with the least amount of furniture, then add additional pieces as needed to avoid cluttering the room.