How do I Become a Certified Wound Specialist?
If you want to become a certified wound specialist in the United States, you need to be a registered nurse (RN). In addition, most employers require applicants to have at least a bachelor's degree in nursing. Some employers prefer applicants who have a master's degree, but this is not always a requirement. For most positions, you need to possess an RN license for the state in which you will be working. You should also have a certification in wound care in order to be fully qualified for this type of position.
Wound care specialists offer specific types of care to patients, and this often involves providing them with rehabilitation techniques as well as the management and prevention of wounds. In some employment situations, you could be asked to take on a teaching role, in addition to your other responsibilities. If you want to become a certified wound specialist, you should be prepared to discuss this type of work when going into any job interview.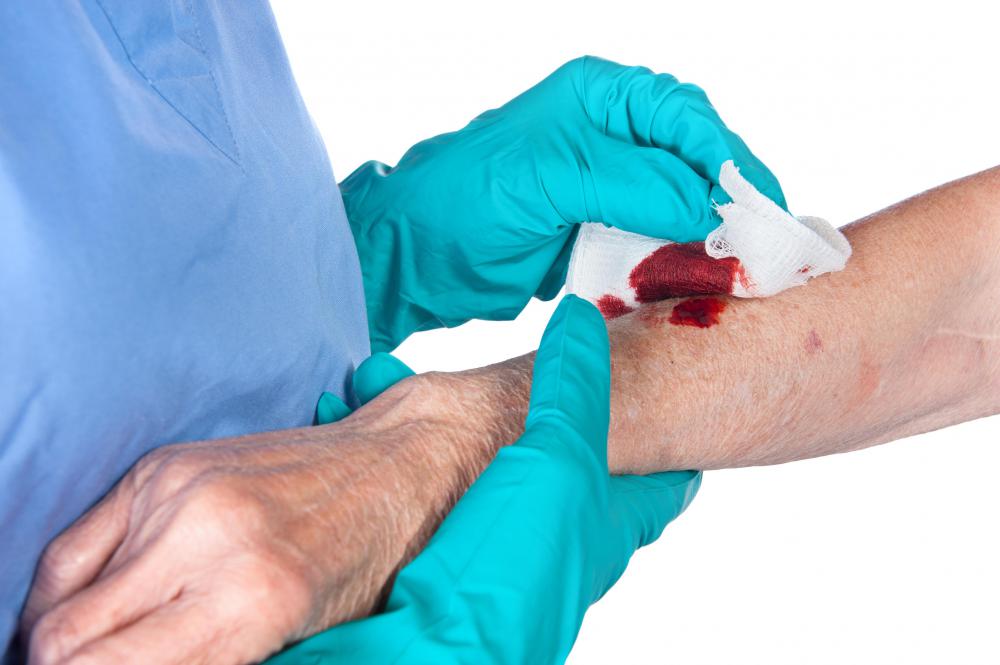 In some circumstances, employers might prefer to hire applicants who have at least four or five years of teaching experience in the healthcare field. Some job requirements could include a background in teaching courses about wound care. To become a certified wound specialist, you should try to begin acquiring some type of healthcare teaching experience fairly early in your nursing career. This could help you to find the type of job that you want later on.
As a general rule, you need to take a variety of different continuing education courses throughout your career. To excel within your specialized field, you should plan to take courses that relate to general healthcare practices, nursing, and wound care. This will provide you with a well-rounded educational background that employers might view as ideal.
Some of these jobs require candidates to have several years of healthcare management experience, in addition to nursing and wound care experience. If you want to become a certified wound specialist, you should try to take several management courses that relate to healthcare while you are in college. It is not necessary for you to minor in business, but you should try to obtain a solid background that will provide you with managerial knowledge. You might also consider trying to obtain an internship as a healthcare assistant manager in order to gain some initial experience of this kind.