How do I Apply an Emergency Bandage?
You can apply an emergency bandage by gently pressing the white sterile pad side to the wound, wrapping the elastic cloth strap around the wounded body part, passing it through the white plastic pressure bar and reversing the wrap direction until you reach the end. The pressure bar is the white oval-shape plastic piece attached to the outside of the elastic strap opposite the edge of the sterile pad. The wrap is then secured to the body by clipping the closure bar at the end of the elastic strap onto a section of the wrap that is away from the wound. When applying the bandage, it is best to avoid touching the white sterile pad before applying it to the wound to reduce the risk of infection.
The plastic pressure bar on the outside of an emergency bandage increases the amount of pressure applied to the wound to help stop bleeding faster than conventional elastic bandages. The soft plastic material of the pressure bar flexes to evenly distribute the pressure from the tightly wrapped bandage over the area of the wound. Twisting the pressure bar further tightens an emergency bandage enough to compress surface blood vessels in the same way as a tourniquet. Emergency bandages can be unwrapped and rewound multiple times to make adjustments to the applied pressure and keep the wearer as comfortable as possible.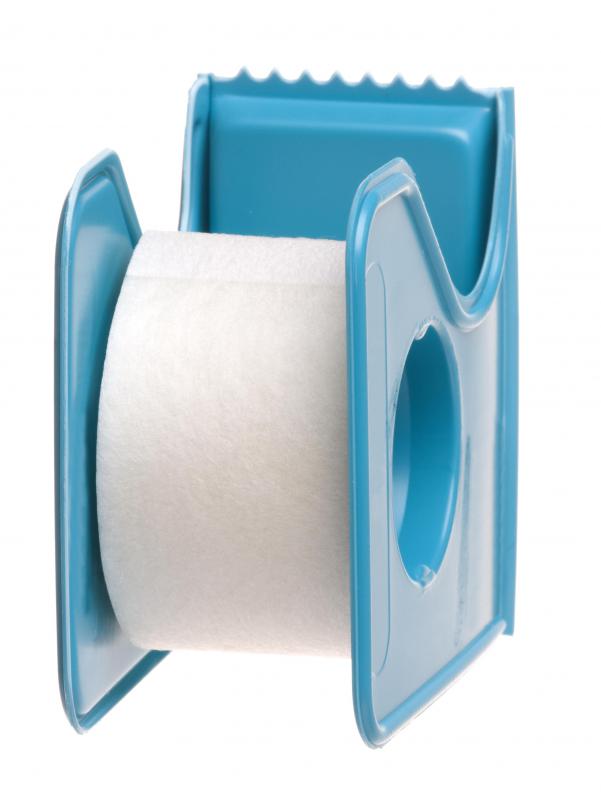 Individual emergency bandages are generally packed inside two layers of thick plastic that keep them sanitary until the moment they are needed. The sealed bags containing emergency bandages are designed to be transported without damage and easily ripped open at the scene without the need for scissors or a knife. Emergency bandages offer a versatility that is ideal for any first response medical personnel or team. Adding a sealed emergency bandage to a traveling first aid supply kit often reduces the need for other large adhesive and elastic bandages as well.
An emergency bandage is an all-in-one wound dressing that replaces the multi-step process of covering a recent injury. The emergency bandage was originally designed to be used in combat medicine and other remote trauma treatments where medical supplies and time are often limited. Traditional wound dressing techniques generally required the application of a primary and secondary dressing as well as a tourniquet or other means of applying pressure. Emergency bandages combine all these features into one convenient and easy to apply package. Now the emergency bandage is used throughout the public and private sector to quickly treat injuries in the field.